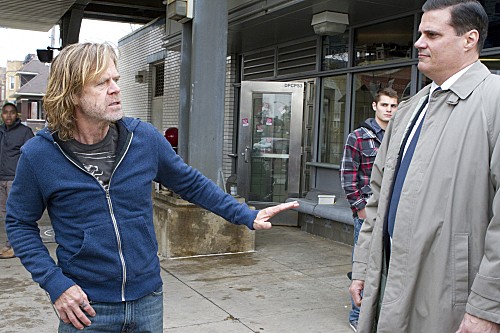 The Gallagher family has been through quite a lot in the three seasons of Shameless, to the point where the latest shocking event barely registers compared to their past endeavors. Although they may initially want to panic or curl into a ball until the hurricane passes, they very quickly pull themselves together and help one another out for the good of the rest of the family, bonding through the tragedy they experience like very few families have to. However, when Lip found out that Mandy ran Karen down with her car, he didn't quite know how to react, what to do, or where to begin regarding his relationship with her.
On the next episode of Shameless, Lip has turned to Kev for advice about what to do about Mandy. Although he doesn't outright say that she did it, Lip strongly implies that his girlfriend ran over his ex, but even the slightest inkling that she could be behind it is enough for Kev to suggest breaking things off. But Lip can't just  end things and go about his business, not with a girl who has shown herself capable of being violent with those who do her wrong. He's going to have to do this very slowly and methodically, to the point that Mandy doesn't detect what's going on until it actually happens. If Lip does manage to make it out of the relationship alive, is there a chance that she could still get revenge on him? Or, worse, would he be willing to get back together with her, given some distance from what happened to Karen?
Elsewhere on Shameless, Frank's run as a gay rights poster boy appears to be over, as he sleeps on a train and gets into a scuffle with a homeless man, while Fiona takes the kids camping for a night.
Shameless airs Sundays at 9:00 on Showtime.
How should Lip end things with Mandy, if at all? Should Carl sneak Frank into the Gallagher family van for a night? Will the camping trip go smoothly for Fiona or will her drama with Jimmy get in the way?