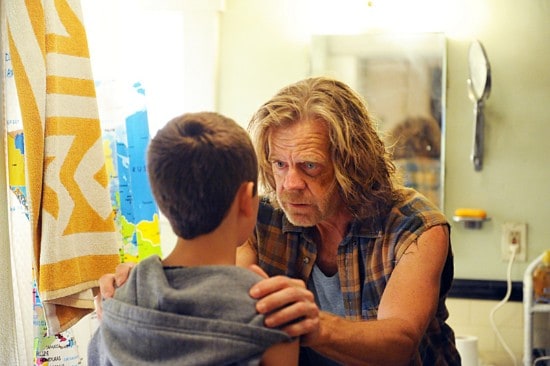 Last week on Shameless, Frank did one of the worst things he's ever done by using Carl as a pawn to get a signed basketball – to pawn. After seeing a news spot on an ill little boy receiving a signed ball from the Chicago Bulls, which people at the bar said could go for a couple grand, Frank convinced Carl that he had cancer and shaved his head, only to find out that the wait for the ball could be a year. Undeterred, Frank eventually got Carl into a camp for cancer patients, which Carl was looking forward to due to not ever having went to a "regular" camp. Would he still feel that way once the time to leave drew closer?
Yes and no. On the next episode of Shameless, it's time for Carl to go to camp and while he might be ready to go hunting and enjoy all that camp has to offer, he's worried that he's going to die. Rather than either offering comforting words for his son or telling him that he doesn't actually have cancer, Frank only informs him that "time will tell" and that he'll be working on a cure while Carl's gone. Frank Gallagher has done a lot of awful things during the 2+ season run of Shameless, in addition to everything that transpired beforehand that got us to this point, but if he continues letting Carl believe that he's got cancer, this might be his worst yet.
Elsewhere on Shameless, Jimmy gets bad news about his parents, Sheila worries about the state of her relationship with Jody, Lip and Mandy attempt to rescue her half sister from foster care, and Fiona teams up with the other workers at the store against their boss.
Shameless airs Sundays at 9:00 on Showtime. The show was recently renewed for a fourth season.
Will Sheila be able to repair her relationship with Jody? What news will Jimmy receive about his parents? What'll happen after Fiona rallies the other employees at the grocery store?