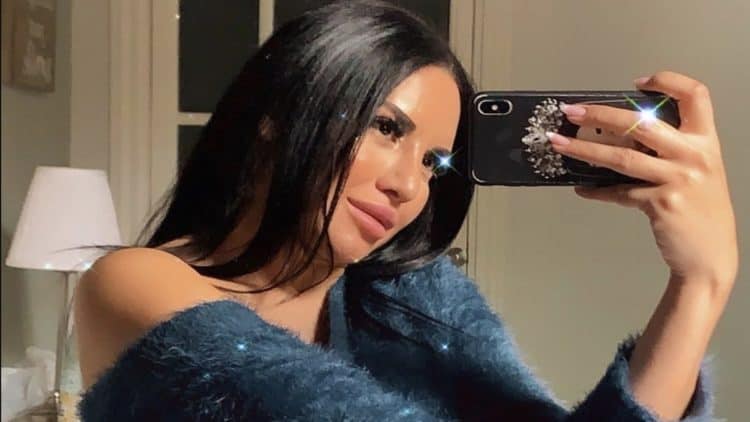 If there's one thing reality TV is known for, it's drama and Shanti Zohra has found herself at the center of both of those things. Shanti recently became the topic of several gossip blogs after news has started to spread that she had an affair with Florian Sukaj, Stacey Silva's husband. Stacey is best-known for being the star of the reality TV show, Darcey and Stacey which also stars her identical twin sister. The news of Florian's alleged affair obviously hasn't been sitting too well with Stacey and it looks like things are going to get a lot more dramatic before this whole thing blows over for good. Keep reading for 10 things you didn't know about Shanti Zohra.
1. She Doesn't Have Any Previous Reality TV Connections
Since reality TV has built a reputation for being fake, many viewers naturally assume that most of the drama is manufactured as well. So when news of a supposed affair between Shanti and Florian started to circulate, many people just figured that Shanti was just some kind of actress who was helping play out a storyline on the show. As far as we can tell though, Shanti has never done any acting and doesn't have any previous ties to reality TV.
2. She Loves To Travel
Shanti currently lives in Belgium but by the looks of things she is truly a woman of the world. Based on her Instagram, she is an avid traveler who has gotten the chance to visit lots of places. Some of the countries she's been to include France, India, and the United States.
3. She Is A Model
One of the things most people are curious about when it comes to Shanti is her career. While we were unable to locate any information pertaining to a traditional job, it appears that she is some kind of model. She has done several photoshoots but it's unclear if she's worked with any major brands.
4. She Is A Former Pageant Contestant
In addition to her work as a model, Shanti also has a history of competing in beauty pageants. According to Meaww, she was crowned third runner up in the Mrs. Top of the World and Ms. Diamond pageants. The fact that her titles included Mrs. as opposed to Miss may suggest that she was married in the past.
5. She Has A Big Social Media Following
Shanti may not be a TV star, but it looks like she has already made a bit of a name for herself on the internet. She currently has an Instagram following that includes over 14,000 people and there's a very good chance that number will continue once more Darcey and Stacey fans find her page.
6. She Used To Be A Fan Of Stacey And Darcey
Before all of the drama with Florian, Shanti was one of the many people who had seen Stacey and Darcey on 90 Day Fiance and she was a fan of them both. During an interview with In Touch Weekly she said that she loved the fact that Stacey was an independent woman who loved fashion and beauty.
7. She Feels Attacked By Stacey And Darcey
Getting in the middle of someone's relationship is never a good thing, and it's even more stressful when one of the people involved is in the spotlight. Since all of the things that have taken place Shanti says she feels attacked, particularly by Darcey who Shanti says called her "the b-word".
8. She Actually Met Florian Through Stacey
One of the most ironic things about this whole situation is that Shanti claims to have met Florian through Stacey. While talking to In Touch Weekly, she revealed that she and Florian initially came in contact while he was in the background of a phone conversation she was having with Stacey.
9. She Is a Dog Mom
As far as we can tell, Shanti doesn't have any children – but that doesn't necessarily mean that she isn't a mother. She is a very proud pet parent to a sweet little dog named Lucy. Not only does Lucy make frequent appearances on Shanti's Instagram, but Lucy also has her own page.
10. She Hasn't Revealed Much About Her Personal Life
Despite having some of her business exposed on Darcey and Stacey, Shanti seems to be a pretty private person overall. There isn't really any information about her floating around on the internet and her social media presence doesn't reveal details about her personal life. Unfortunately, however, this entire incident will probably result in some her privacy being invaded.