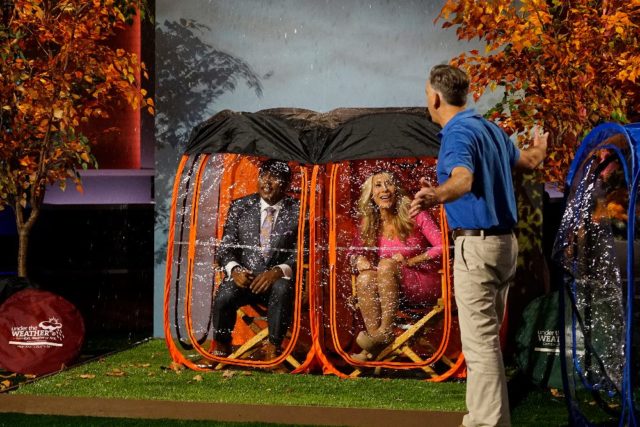 Shark Tank returns this week with four new entrepreneurs seeking an investment from a Shark to help grow their businesses. Cam MacKugler, an architect from Vermont, hopes the Sharks see growth potential in SeedSheet, an instant organic garden that ships straight to your door. Rick Pescovitz seeks an investment to grow Under the Weather, his business that sell a tent/chair hybrid for people who attend outdoor events. Brandon Zavala wants to toast to a deal for Apollo Peak, his "wines" designed for consumption by dogs and cats. Mylen Yamamoto wants to feed the Sharks with Cropsticks, her sustainably made chopsticks with a built-in holder.
Today we're going to focus on "Under the Weather" which is the product in the photo you see above.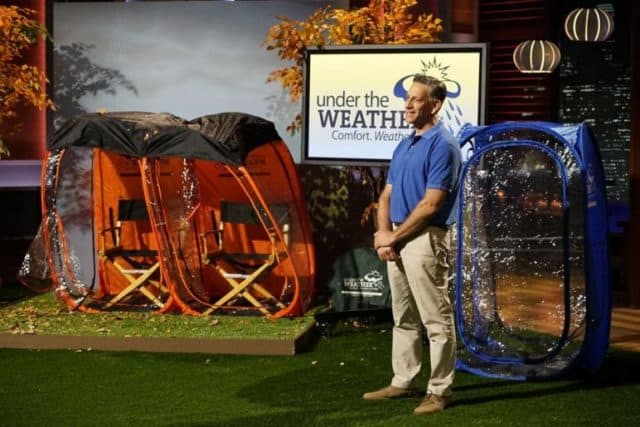 Rick Pescovitz invented his "soccer mom chair" with a tent attached product so that spectators could avoid the elements in the event of bad weather at outdoor games.   The idea came to Rick when he was attending his son's soccer tournament.  The game was at 8am and featured freezing temperatures and cold rain.   That same night the light bulb went off in his head and Under the Weather was born.
Under the Weather is a tent/chair combination (they're called pods) that's portable, but not cumbersome. It keeps you warm and dry in cold weather and offers sun protection in warm weather.  In order to star the business, Rick cashed in his living savings.  The business started off slow but has picked up steam.  After he brought on his wife to help him with the business the business was shipping hundreds of units within weeks.
One of Rick's pods costs between $59 and $200, depending on the features and number of people protected by the pod. Pods connect with the "connect up" accessory, so you can have the whole team under cover. They even have college licensed pods.
This Friday Rick is going to have to convince the sharks this his product is a worthy investment.  Check out the video for his "pods" below: