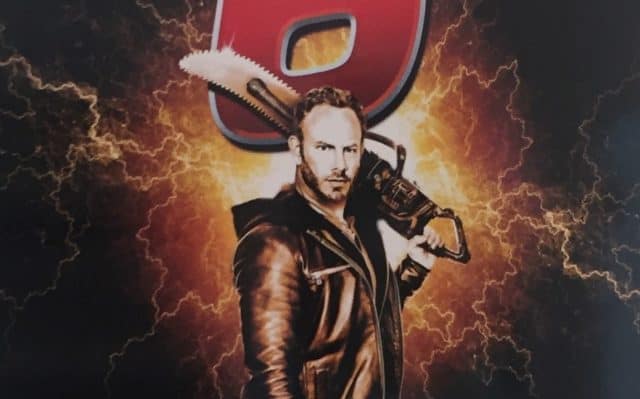 Would it be too much too ask if Sharknado 6 could be a time traveling adventure that could travel back to say, the first movie, so the Sharknado's past and present can meet and possibly cancel each other out? No? Okay, thought I'd ask. This has to be one of the only movies that openly celebrates being so dumb that people like it. It's not even possible to bash the movie any longer since it's already been called out for how insane it is and how utterly lacking it is as far as having any redeemable qualities. So they're going to go for broke it seems and add time traveling to the franchise because you simply know that the people who somehow love this are going to lock on it and create another media buzz about it so as to keep the franchise going.
And in the meantime, those of us that like good shark movies will be finding different ways to deal with the fact that this is actually a desired film. You know, Tylenol, scotch, anything really that helps us forget it's there. I would love to speak about what makes the franchise so great but about five minutes into each movie I had to turn it off since I felt my IQ slipping downward. When that happens it's usually time to move on or risk being a drooling, grinning mess by the time the credits start to roll. Granted, a lot of people seem to like Sharknado and that's great, it's their prerogative and they're more than entitled to it, but from a personal standpoint this has to be one of the craziest things to ever hit the television.
Shark movies have gone completely out of control ever since Jaws 2 and the other sequels started coming out. I think was Jaws 3 that the shark had learned how to roar, which was kind of odd since that would almost make it part shark and part, dragon? For a brief second it made me think that perhaps we just don't hear sharks when they're out of the water, but that half a second passed quickly since it made no sense and the last time I saw a shark break the water as it did in the movie was, um, never. But when I first saw the idea for Sharknado in the first movie my estimation of Jaws 3 didn't change much, though it did lessen in the amount of dislike I'd harbored for it.
It's no secret that these movies are made for the shock factor and the gore and the bad acting and, of course, the sharks. But the level of crazy that's caught on film in these is like something that was headed for a cartoonish quality and then veered off into some dark, murky water where unknown monsters dwell. Somehow in the dank, darkened recesses of that puddle where the writes of Sharknado draw their inspiration, a storm brewed, spinning faster and faster as it picked up those demons built of flesh and teeth, and spiraled forward as it finally left the confines of the dark corners and emerged as the Sharknado. I know that's not how the story really started, that's just my estimation of it.