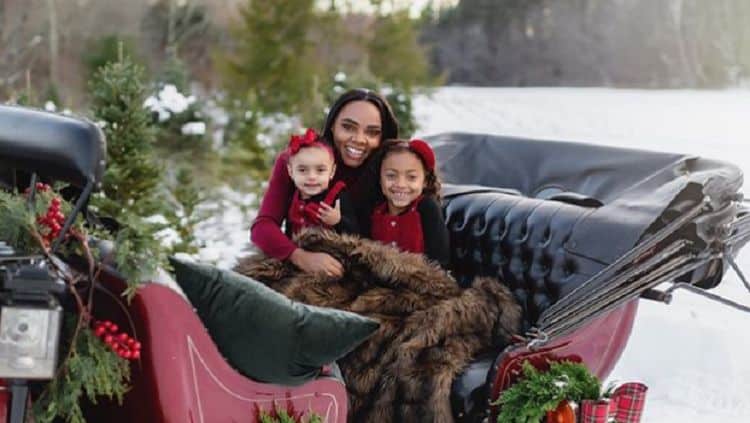 The media will always go where there is news, be it negative or positive, and woe unto you if you are caught in the middle of it. Shayanna Jenkins was thrust in the limelight when her late fiancé Aaron Hernandez became the suspect of a murder. She shocked the public by remaining by his side when he was convicted of murder until the day he committed suicide. Most people only know how loyal the woman can be, but there is a lot more to her than that you can learn from the facts below.
1. Her first proposal was on the same day as her baby shower
Only a few days remain memorable in a woman's mind, and those include the day her man proposed, their wedding anniversary, and perhaps her children's birthdays. For Shayanna, she was lucky to have had one day mark two critical events: a proposal and a baby shower. As for her second proposal, there are still no reports of when she and Dino got engaged.
2. She chose her boyfriend over her family
Blood is not always thicker than water as the relationship between Shayanna and her sister Shaneah has turned out. At first, the two were very close and even went on double dates with their respective boyfriends. However, after Aaron was accused of murdering Shaneah's boyfriend, Lloyd, Shayanna chose to stick by her man's side instead of her sister's. Since then, the two sisters have drifted apart with little possibility of them ever being close again.
3. She still pays her respect to Aaron
Shayanna's love for Aaron is one that many people cannot understand. She may have been assumed to be a gold-digger, but since the fortune ended and she still stuck by his side, she has amazed her critics. On her Instagram, the woman continues to pour messages of love to her late ex-boyfriend posting that she hopes that he continues to rest in peace.
4. She overlooked her boyfriend's infidelity for the sake of being a family
Cheating on someone you love has always been said to be a conscious decision one makes; after all, you cannot claim to love someone yet hurt them. Still, despite infidelity being a valid reason to file for divorce, Shayanna was not in a hurry to call it quits. She endured her fiancé's immorality, reasoning that he was a grown man hence would change when he was ready, but that never happened, unfortunately.
5. She began dating the late Aaron in middle school
Shayanna and Aaron knew each other since their days at elementary school because they were in the same neighborhood. They grew from friends to lovers when Shayanna, evidently crushing on Aaron, started flirting with the rising football star in middle school. The relationship was however, burdened with Aaron's unfaithfulness since he always welcomed those that were attracted to him. With that realization, they had a rough time working on the relationship in high school, but by the time Aaron signed his contract with the New England Patriots, Shayanna moved in with him.
6. She does not mind playing the role of a good wife
For most of us, physical and emotional abuse are enough to have us walking out of any marriage, but Shayanna was not ready to give up on her love for Aron. She once called the police when the two were fighting, and Aaron smashed a window with his fist. The strange thing is that neighbors reported the fights as a regular occurrence, but Shayanna decided that she would accept everything that Aaron did, be it infidelity or physical abuse. She said that she played the good wife role, including being submissive and doing whatever was asked of her.
7. She is fiercely loyal
Shayanna is one woman who has taken the meaning of "loyal" to another level. Even when she knew that she would face perjury charges, the mother of two still dared to lie in court. Shayanna threw out a box that might have contained the weapon used to kill Llyod after Aaron ordered her to get rid of it. Being the obedient girlfriend that she was, Shayanna threw it out without allegedly bothering to look at what was inside. Still, her conscience was getting the better of her because she covered it with baby clothes and further used her sister's car to dispose of it, then lied to Shaneah that she was getting baby supplies. Shayanna dared to tell the prosecution that she could not remember where she threw the box nor what she and Hernandez talked about when he called her minutes after the killing of Daniel and Safiro in July 2012.
8. Her late fiancé was allegedly gay
In this day and age, when people are not afraid to reveal their sexuality, Shayanna's ex-fiancé found it imperative to hide his. As per different sources, when Lloyd found Aaron in a compromising situation with a man, he killed him to hide his secret. Aaron allegedly found male lover to whom he left a note before committing suicide. Shayanna claims that she did not know about his sexuality and, according to BET she wishes that Aaron had trusted her enough to tell her because even then, she would still have had his back.
9. She is engaged again
Shayanna may have a thing for men in the football pitch. Her first baby daddy was a former NFL (National Football League) star who played for New England Patriots. Shayanna remained loyal to the point of using Aaron Hernandez's last name despite never being legally married. She has now moved on with another football star, Dino Guilmette. Dino and Aaron met at the University of Florida, where they both played football. Shayanna has even gone ahead to have a child with Dino, although haters claimed that the baby was Aaron's.
10. She is taking a break from social media
Shayanna has been through enough media coverage after being associated with a man charged with multiple murders, and she has tried to remain strong. However, now it seems that she has had enough and would like to be left alone to care for her new man. Therefore on her Instagram, according to LADbible, Shayanna told her fans she was grateful for all the positive energy but needed to take a break from social media.