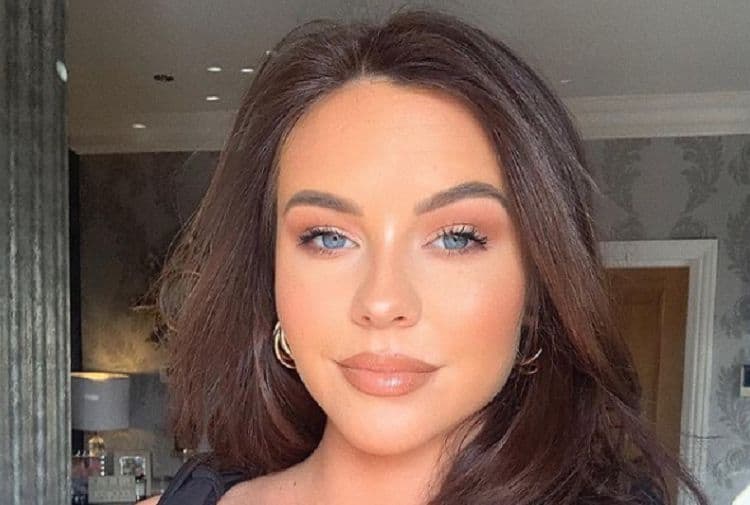 If you're not familiar with Shelby Tribble or Sam Mucklow, it's probably because you aren't watching "The Only Way is Essex," because they're both stars, they're dating, and they announced in 2020 that they are expecting their first baby together. Their sweet baby was born in November, a darling little boy, and the couple is excited to welcome him to their family. Of course, this has not been a journey without some serious struggles and a lot of stress as her health was rapidly declining at the end of her pregnancy. It's been a whirlwind year for the couple, and things are only intensifying for them. If you want to get to know Shelby Tribble better, here you are.
1. She's a Beauty Queen
Not that you need to know that on an official basis to know that on an unofficial basis. She is the former Miss Great Britain, and we think she probably made a great one. She's done a lot for her community and her fans over the years, and everyone was beyond excited when she announced her pregnancy in May.
2. Her Health is a Problem
She spent five days in the hospital before giving birth to her little boy, and she wasn't feeling well through much of it. She was very open that she struggled substantially through her last trimester, and that she was just ready to meet her baby and not be pregnant any longer. She was in the hospital for five days, gave birth, and was re-admitted within 24 hours due to pre-eclampsia and high blood pressure.
3. She's Still Young
Shelby Tribble was born on December 6, 1992. She was born in Plymouth, England. She currently lives in Essex, of course. She works there, she lives there, and she's been calling it home for a long time now. She's a young woman who has had a good time where she's lived.
4. She Was Bullied in School
Growing up, she was often bullied. We don't know why she was bullied, but it seems that some of the people she went to school with made her miserable. She was unhappy, she probably did not like going to school, and it was probably a very difficult time in her life.
5. She's a Model
One of the many things she's accomplished in her life is her career as a model. She's done quite well modeling, and she's got a long portfolio of big clients. Some of her biggest clients include Daniel Wellington, the watch maker, and Nutri Buddy. That's only to name a few.
6. She's Dated a Lot of Famous Men
Before she was with her boyfriend and the father of her baby, she dated a few other very famous men in England. She dated a famous football star whose name is Danny Simpson. She also dated another costar from "The Only Way is Essex," Pete Wicks. Their relationship was a bit questionable considering they went through a lot, including the fact that his own ex-girlfriend made it very clear she did not approve.
7. She Has an Impressive Following
Shelby Tribble has an impressive social media following. She currently has more than 460k followers on Instagram alone, and she's growing regularly. Fans love her modeling photos, her bump photos, and her sweet behind-the-scenes glimpses.
8. She's Excited to Be a Mother
If there is one thing you will take away from her social media, it's that she is beyond excited about her new role in life. Becoming a mother seems to be the one thing that she's so excited about. We don't blame her, either. It is the most beautiful reward. To have something so lovely to look forward to during a global lockdown also must have given her hope.
9. She's Happy
The other very obvious takeaway from her social media accounts is her happiness. She is positively glowing. Despite the fact that she is clearly going through some difficult times right now, she seems exceptionally happy to be able to go through those things with the man she's chosen to spend her life with. They seem adorable together, and very happy with the way their life together is going.
10. She's Good About Maintaining her Privacy
She might be a reality star whose life is regularly shown to millions, but she is good about keeping her private life to herself. She's good about sharing the little things, but she always finds a way to keep from sharing too much. It's a darling trait.