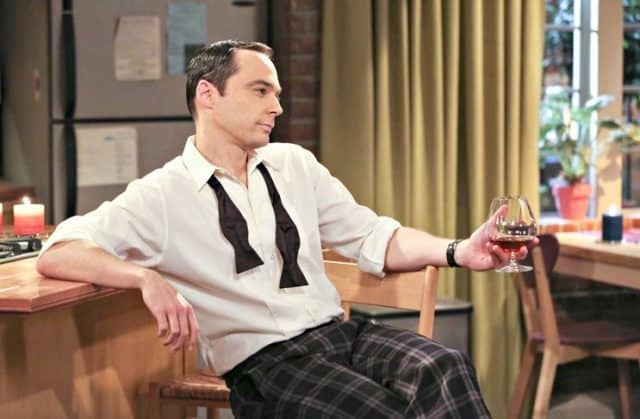 Jim Parsons plays Sheldon Lee Cooper on "The Big Bang Theory". He is a strange young man with an IQ of 187, as well as a Ph.D., Sc.D., B.S., M.S., and an M.A. He's a child prodigy from East Texas, who started college when he was only 11 and had only completed the fifth grade. A theoretical physicist, he has not only a master's degree but also two doctorates. He is dedicated to strictly adhering to routine (OCD maybe?) but has a total lack of understanding when it comes to humor, irony, and sarcasm. It comes across as lacking humility, however, he's actually just Sheldon being Sheldon. These character flaws have become his main source of humor, as well as the basis of numerous TBBT episodes.
On the show, he is sharing an apartment with Leonard Hofstadter. He met a young lady named Amy Farrah Fowler toward the end of season #3. The two began a painfully slow relationship but eventually Amy became Sheldon's girlfriend. Many fans have commented that perhaps Sheldon has Asperger Syndrome (AS), which seems like a good possibility since he often says off-the-wall things that seem to come out of nowhere. On the other hand, some think he's simply OCD. Perhaps he's a little of both, but either way, his actions, and dialogue make him an extremely funny character, to the tune of $1.2 million per episode.
During Season #10, Sheldon's funniest moments start with Leonard and Penny renewing their vows in front of their families. One classic Sheldon Cooper moment comes when he stands up to make a toast to Leonard and Penny and poor Amy mistakenly assumes that he is going to propose. In one episode, Sheldon and Amy move in together, and in another, Sheldon gets himself and his friends in trouble when he brags that they can complete a scientific project for the government in two months when it could actually take two years. Here are a few of Sheldon's top moments in Season 10:
1. Episode #1- "The Conjugal Conjecture"- Aired on September 19, 2016
https://www.youtube.com/watch?v=KUGtOI_Ml5s
Leonard's father, Albert, and Sheldon's mother, Mary, get together while in town for Penny and Leonard's wedding, resulting in an awkward moment on the morning after for everybody. The best Sheldon moment in this episode is when he calls out to Leonard through the wall while Penny and Leonard are in bed sleeping. He tells Leonard that they could end up being brothers. Sheldon also says that he's wondering if Leonard's dad might be doing awful things to his mom at that very moment but is reassured by Penny, who says that they're really old, so not to worry because they'll be done by 9:30. Sheldon later asks Albert if he had defiled his mother. When told that all they shared was some conversation and a cab, Sheldon asks if the conversation included comments about genitalia. He also says that Albert is just Leonard with a larger prostate. Funny stuff! Watch it at
2. Episode #2- "The Military Miniaturization"- Aired on September 26, 2016
https://www.youtube.com/watch?v=1k5-_J5u9Qc
In this episode, the great Sheldon moment is when Leonard calls him a know-it-all and Sheldon retorts that he's not a know-it-all, but just someone who knows a lot of things and loves correcting other people when they're wrong, [which of course is precisely the know-it-all definition].
3. Episode #3- "The Dependence Transcendence"- Aired on October 3, 2016
https://www.youtube.com/watch?v=MkRwutQLnPY
Sheldon, Howard, and Leonard have been working late on their miniaturized gyroscope. They are under the gun because Sheldon opened his big mouth and bragged to the Colonel that it would be completed in two months. However, Sheldon constantly complains that he's tired and keeps falling asleep. In fact, he even falls asleep in the cafeteria at Caltech. The three eventually visit the Colonel and tell him that they can't produce the gyroscope in two months, but he's OK with it since they're not the first government contractors responsible for not delivering on-time.
4. Episode #4- "The Cohabitation Experimentation"- Aired October 10, 2016
https://www.youtube.com/watch?v=DUzInO3wAD4
When Amy's apartment gets flooded, she suggests that she and Sheldon could try living together for five weeks as an experiment. After much trepidation about things like sex and shaving, Sheldon relents. The really funny Sheldon moment is when he says that he is concerned, scared, and excited about the arrangement just like when he goes on Space Mountain.
5. Episode #5- "The Hot Tub Contamination"- Aired October 17, 2016
https://www.youtube.com/watch?v=9XC-nw37-WM
In response to some conflict arising from living together with Amy, Sheldon suggests that they should start seeing other members of the opposite sex. He explains that, because he is a male, he has this evolutionary urge for spreading around his DNA as much as he possibly can. He also states that he is blaming her old friend, biology, for the urge. She tells him to go ahead and Penny is understandably concerned that Sheldon might move back in with them, so she tries separating Sheldon and Amy for a while to let them cool down. After a cool-down period and some talks between Sheldon and Penny, as well as between Leonard and Amy, they get back together and Sheldon asks Amy to share his toothbrush holder, making her very happy.
6. Episode #6- "The Fetal Kick Catalyst"- Aired October 27, 2016
https://www.youtube.com/watch?v=nmdSS7wdxHs
Sheldon's most off-the-wall moment in episode #6 comes up when he and Amy are having dinner together. She asks him since they're now living together if maybe they could have some people over. He responds by telling her that they have delivery people over all the time. He ends up surprising her with a brunch where he invites some friends, but takes 15 minutes to open a bottle of champagne, then ends up scaring himself when the cork pops.
7. Episode #7- "The Veracity Elasticity" – Aired November 3, 2016
https://www.youtube.com/watch?v=4UAo9slLe-w
This episode actually revolves around something that is done to Sheldon by Amy. She hides the fact that her apartment has been repaired and is no longer uninhabitable so that they can continue living together because she loved him. Sheldon is not happy at first when he finds out, but forgives her although he is perplexed by a quandary over where they will live if the situation becomes permanent.
8. Episode #8- "The Brain Bowl Incubation" – Aired November 10, 2016
https://www.youtube.com/watch?v=xtfrVvtJ1Ao
This is a really cute episode. After undergoing gene experimentation that proves to be quite successful when his and/Amy's skin cells are combined to create brain cells, Sheldon gets excited about the prospect of procreating with Amy. He goes all out to get her onboard, including performing a flamenco dance for her, and it's hilarious. Sheldon compares the gene experiment to Bernadette's unborn baby and she's offended. Sheldon says that he'll be thinking of both as being very special in their own way, but adds that he and Amy created theirs without having to have sex with Howard.
9. Episode #9- "The Geology Elevation" – Aired November 17, 2016
https://www.youtube.com/watch?v=uBvCIlJfxbs
In this episode, Sheldon finds out that Amy's friend, Bert, received a major geology grant, namely the $500K MacArthur Genius Grant . Naturally, he's quite jealous and hilarity ensues. He gets so angry and childish about the whole thing that he keeps hurting himself. But, in the end, he reconciles with Bert and they get to go to the Ellen Show together.
10. Best Overall Moment- Flamenco Sheldon
https://www.youtube.com/watch?v=xtfrVvtJ1Ao
There are no more shows available yet, but I would have to say that the top funny Sheldon moment was in Episode #8 when he actively romances Amy. After so many episodes where she tries to get close to him, it's good to see him pursuing her for a change no matter what his motives are. The very-very-Sheldon flamenco dance is definitely the highlight of the season!