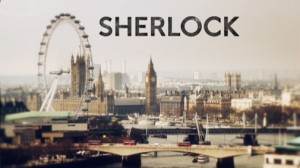 I've always been a big fan of Sir Arthur Conan Doyle's Sherlock Holmes stories, and when I heard that the newest spin on the classic gumshoe would be a contemporary update, I was intrigued but nervous. Those fears were quelled shortly into the first 90-minute installment of this three-part British series.
There have been many Sherlock incarnations over the years, and I have always felt that Basil Rathbone played the role better than anyone else. That being said, Benedict Cumberbatch has big shoes to fill, and while I don't believe he lives up to Rathbone, he is a very steady, natural and convincing Holmes. Additionally, Martin Freeman is an excellent Dr. Watson. This version of Watson is a bit darker than we're used to, but he is also more competent and not the bumbling sidekick he's often portrayed as. The two have flawless chemistry on screen from their first meeting.
Creators Mark Gatiss and Steven Moffat have truly managed to retain the essence of the stories and the characters while giving them a modern update, which is no small task. The writing is crisp and the action is quick at times, a rarity in Sherlock stories. Moffat was quoted as saying "other detectives have cases, Sherlock Holmes has adventures, and that's what matters." That quote does well to sum up the episodes, and hopefully the series will continue beyond three episodes. Initially, it's quite odd to see the famous sleuth with a phone and a blog rather than a pipe and deerstalker, but at no point does it seem forced or unnatural. Again, that is no small task, and both Gatiss and Moffat should be praised for that.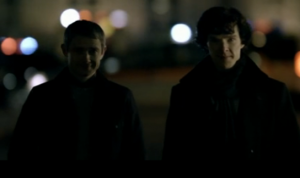 Holmes' amazing detection skills are put on display early in the first episode ("A Study in Pink," loosely based on the first Holmes story, "A Study in Scarlet") as he amazes Watson by nailing a series of details about the doctor, his past and his family. Inspector Lestrade (played by Rupert Graves) consults Holmes after what appear to be serial suicides, and he and Watson set out to get to the bottom of it. An interesting subplot develops with Watson as he is taken and questioned by a strange man claiming to be Holmes' enemy, who offers him money in exchange for information about the detective and issues a warning about him as well. As always, Holmes' brilliance leads to the answer before the police even have any clue about what's going on, and the episode ends on an interesting note, as a name that all Holmes fans will be familiar with is mentioned.
The series' second episode ("The Blind Banker") is somewhat muddled. It starts out promising, and Holmes leads the police to a man found dead in a room that had been locked from the inside. The police immediately think they're looking at the results of a suicide, but the great detective puts on a show of pointing out all the reasons why that is only one possible explanation of some of the facts, and actually not very likely at all. The case involves a tough-to-crack Chinese cipher, a missing girl who may be able to help figure it out, a bad first date, a confused villian, a book that everyone owns and an antiques museum. Exciting? Only slightly. While the first episode was thrilling throughout, this second installment only approaches that level in places, but falls a bit flat overall. Both Cumberbatch and Freeman are again impressive in their roles, but the story does not live up to the level of the acting, the characters or the great direction. It does pick up again at the very end, and going out on that high note has me excited for the third episode.
Grades:
"A Study in Pink" – A
"The Blind Banker" – B-