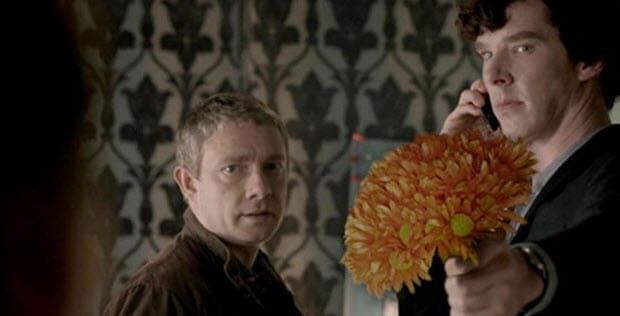 Ever since I burned through all six mini-movies of Sherlock a few months ago, I've been evangelizing about the show ever since, trying to get anyone and everyone to watch it. The two, three episode seasons are easy to get through, and I would argue you can even skip the middle episode of each season, as they're simply not as good as the other brilliant ones. But maybe that's just me and there are a ton of "Hound of Baskervilles" fans out there.
Like everyone else, I've been waiting for the day when season three will grace us with more episodes, and now, finally, we know which day that will be. Sherlock will return January 19th at 10PM on PBS Masterpiece. It will air back to back with another import, Downton Abbey. The UK air date for Sherlock remains a mystery however, but it will likely be before the 19th to the delight of Brits and pirates everywhere.
Season three of Sherlock was delayed for a long while because of how in demand the show's two stars are. Martin Freeman has been in everything from The Hobbit to FX's upcoming Fargo, while Benedict Cumberbatch is in too many movies to count these days. Both have seen rocketing popularity in the wake of Sherlock, and it was hard to pin them down to come back for season three.
But they finally did it, and I can't wait to see the end result.