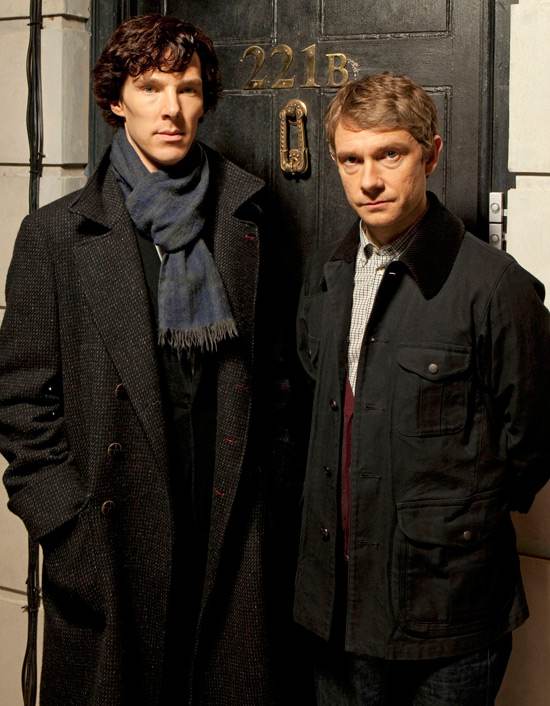 Last night after a rerun of the Sherlock season 1 finale on BBC 1, it was announced that 'Sherlock series 2 is to be broadcast next year.' This obviously caused some confusion when it was previously understood that the hit show would return to screens in the UK this Fall. Now however there is no time frame other than 2012 for Sherlock to air in the UK with a May slate for PBS to show the mini-series.
This announcement which took many by surprise had fans taking to Twitter to show their frustration and confusion. It wasn't long before Sherlock producer Sue Vertue responded via her twitter to disappointed fans saying:
"Please don't blame the poor BBC schedulers for the wait for #Sherlock. They can't tx it till we deliver and we're still filming – Sorry!"
This delay is indeed disappointing news especially as more details have been emerging regarding this new batch of episodes. These details include some rather spoilery photos of them shooting in London and Cardiff that can be seen here and here. One big piece of Sherlock news is casting related as it has now been revealed who will be portraying Irene Adler in the first episode "A Scandal in Belgravia". Den of Geek is reporting that Lara Pulver (Claudine in True Blood) has nabbed this very significant role and it will be intriguing to see how Adler is portrayed in this version and how much of a love interest they will actually make her. I would personally like to see Adler portrayed without the romantic angle, as someone who is interesting to Holmes because she can outwit him thanks to her intelligence and not because she is an attractive woman. What are your thoughts on this casting news and in what direction would you like them to take the Irene Adler/Sherlock Holmes relationship?
Are you disappointed that Sherlock won't return to our screens until 2012? Let us know your thoughts in the comments below.
For more news on episode titles and details for Sherlock season 2 head here.