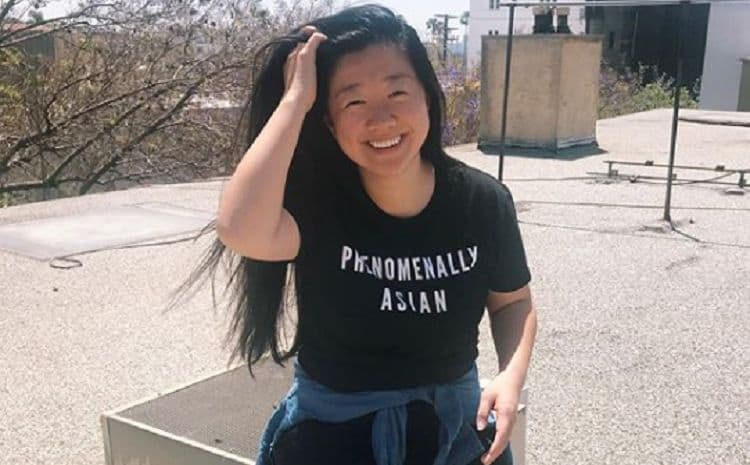 Sherry Cola and her family moved from China to the United States when she was three. As an Asian immigrant, Sherry held back on the things an Asian girl could accomplish, but looking back, she believes she has made her mother proud. She prides herself not just as an actress, but as a dancer who loves showing her moves in public and a comedian as well. Sherry's most notable role is Alice in "Good Trouble." Check out facts about her journey from becoming a radio show host to a viral sensation.
1. She has been an entertainer since her high school days
Sherry has always been drawn towards comedy; therefore, in her high school, she would make funny videos. She must have had an exceptional level of confidence because Sherry also hosted the school's talent show. It is, therefore, only a matter of time before she found her way to the entertainment industry, although it took the intervention of friends and poor high school grades.
2. She never thought of making entertainment her career
Incredible as it is to hear that Sherry never dreamed of becoming an entertainer, she confessed it was not in her plans. She might have realized she was good at it, but to her, entertainment was for Americans. As an Asian, Sherry had never really seen anyone to look up to whenever she watched television, where shows had American actors. Sherry, therefore, blames the lack of representation and her own perception that since she was an immigrant, she was not cut out for the industry.
3. She did not think she would make it to college
Maybe the time she spent hosting talent shows and making funny videos in high school prevented her from concentrating on her coursework. However, that realization did not hit home until it was time to apply for college, and Sherry wondered if her low GPA would be enough to get her in any institution. Luckily, her worry went away when she got accepted in California State University Fullerton. The funny thing is that the high school GPA to be admitted to the University averages 3.48 on a scale of 4.0, which must make you wonder if Sherry's GPA was even low at all. Usually, 2.0 is the lowest GPA acceptable to a standard college.
4. How she ended up loving comedy
After college, Sherry found a job in one radio station, 97.1 FM, where she worked her way up, starting with being part of the promotional team on the streets and social media. Sherry was not ready to settle at the bottom, and she, therefore, not only worked during the weekends, but she also did some standup comedy whenever she could. Her entertaining nature soon was recognized, and later when her colleague was starting a standup comedy show, those who knew her work suggested Sherry. Consequently, in March 2016, Sherry did her first standup comedy show, officially and she loved it so much that she stuck with it.
5. How her Lil' Tasty character opened doors for Sherry
When Sherry fell in love with comedy, she also debuted her character, Lil' Tasty. Sherry used her friends' Facebook as a platform to host the web series "Drive Luber," and when she introduced her character, the episode ended up getting millions of views. Things at her workplace also started looking up because Carson Daly, the radio's morning show host, realized they had their celebrity. Sherry hence began making on-air segments where she incorporated her comedy, and before long, she was hosting her own show.
6. Who inspired her to do comedy?
If there is one person who has and continues to impact people's lives, it has to be Ellen DeGeneres. Sophie Grace and Rosie became overnight stars thanks to Ellen; even Justin Bieber made his first national television performance on Ellen's show. Sherry, however, proves that one does not have to be on the show for them to turn their lives around. When Sherry watched Ellen DeGeneres on "Here and Now," she learned how to make a joke. Sherry's inspiration also came from another Asian, Margaret Cho, whose standup comedy made Sherry acknowledge that even Asians can do comedy.
7. She can be a people pleaser
Ed Sheeran once said that he could not advise on the key to success, but one sure way to fail is to keep trying to please everyone. Sherry does not adhere to this pearl of wisdom because she admitted to The Hedonist Magazine that she is guilty of pleasing people sometimes. She further describes herself as an apologetic person who is uncomfortable in social settings.
8. She is a Buddhist
Hope is the last thing that dies; therefore, when you lose it, you can rest assured that you are on a downhill trend. It dawned on Sherry in adulthood that she needed to believe that someone is watching out for her. She had been raised as a Buddhist, but Sherry never practiced it despite going to the temples. However, she wanted to regain positive energy to facilitate her creative process, and that could only be found in praying to a supreme being.
9. She cried when she booked the role of Alice in "Good Trouble."
Some characters are meant to impact the world, and being the person who gets them can be mind-blowing for some actors. Consequently, when Sherry learned that she had booked Alice's character, then all she could do was cry her eyes out. To her, being allowed to tell the important story of a first-generation Asian lesbian coming out to her parents was something that pushed her to audition for the role. It was a nerve-racking process as she tells Talk Nerdy with Us but the many rounds she had to go through to bag the role paid off.
10. She does not cook
Sherry may have spent her teenage years in the Chinese restaurant that her parents own, but one thing she never learned to do was cook. She thus discloses that she prefers ordering her food from Postmate. Since she also does not prepare any drinks, the courier company still comes in handy with delivering beverages to the actress.