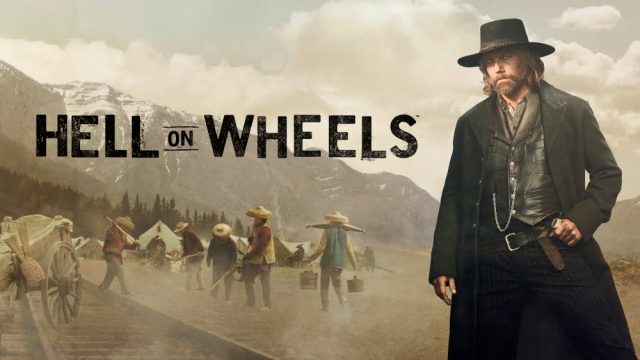 It's been a long ride down this winding railroad, but Hell on Wheels is about to come to an end. The second half of the final season has finally begun, and as it thunders towards the end of the series it's worth point out that if you're not watching, you most certainly should be! For those not in the know, Hell on Wheels, which airs on AMC, tells the story of Cullen Bohannon (Anson Mount), a Confederate soldier from the Civil War who ends up following a path of revenge after his family is killed. This leads him to the town known as "Hell on Wheels," which travels along with the construction of the Union Pacific's first transcontinental railroad.
If you're behind, you can watch everything but this latest portion of the last season on Netflix. In fact, there are plenty of ways to watch Hell on Wheels online all the way through upcoming finale. The final episodes will lead Bohannon to the mountain town of Truckee, California, which is home to the Central Pacific Railroad. The railroad town is filled with Chinese workers, speaking their own language and observing their own traditions, leaving Bohannon feeling like a stranger. Despite the obstacles, of which there will be many, Bohannon will continue to push through the Sierra Nevada Mountains in an attempt to complete the very first Transcontinental Railroad.
If you're not convinced yet, here are some reasons why you should be watching the final season of Hell on Wheels.
1. There's Nothing Else on TV Like It
You'll find a selection of great period pieces on TV these days and even more decent dramas, but Hell on Wheels differs because of the type of period piece that it is. Fresh off the heels of the Civil War, you find a civilization looking to rebuild and to move ahead. Granted, you have to have some interest in the building of the railroad, but while that will bring you to the show, it is Anson Mount's Cullen Bohannon and the assorted cast of characters, both good and bad, who he comes in contact with that will keep you watching.
2. The Reckoning is Coming
There has always been tension, drama, and danger in the attempt to create the first transcontinental railroad, but according to AMC, the reckoning is coming! You can expect some life-changing clashes between Bohannon, the Swede (Christopher Heyerdahl), and Chang (Byron Mann). Finishing the railroad is going to mean contending with corruption, greed, and, at some point, murder as Bohannon attempts to push through the Sierras and make his way through the Utah desert on the way to the finish.
3. The Chinese Railroad Workers Alone Are Worth Watching
Historically speaking the Chinese railroad workers had a big part to play in the Transcontinental Railroad, but it has often been ignored in stories like this, in the past. Fans have been waiting to see what would happen on this front and Hell on Wheels has not disappointed. The Chinese-American experience in this period has yet to be represented on TV like it is being offered here. As with other minority stories, it's worth pointing out that this is a fictional show, so license is taken, but seeing such complex and diverse characters on TV is definitely refreshing.
4. Thomas Durant is a Villain Worth Watching
Colm Meaney plays Durant with fierce, if not underappreciated, enthusiasm. Durant has been on the show since day one, working for the Union Pacific, while Bohannon works for the competing Central Pacific, in a race to get the first transcontinental railroad completed. Durant believes all businesses are dirty if you want to get anything accomplished. Even though he's been caught in schemes throughout the seasons, he's back and it's clear that he has no intention of changing. You can expect that if he was bad in the past, the pressure of getting the railroad done first, will only make him worse.
5. The Themes Underlying this Season Make it the Most Focused so Far
The producer points out that the broader themes in this half of the season deal with "whether a country and a man can be redeemed from their sins, and whether asking for forgiveness and seeking redemption is enough to escape that." Some particularly powerful episodes come with the inclusion of Brigham Young in Bohannon's life, and how that leads to him going home to a family that may not want him. It's the back stories like these that make Hell on Wheels worth watching, from start to finish.
There are still a few, sure to be powerful episodes left. If you're watching you know they air on AMC on Saturdays at 9 p.m. ET. There is still time to get caught up before the season ends in a likely fiery conclusion. Hell on Wheels has not always been the most appreciated AMC show (it's had some tough competition), but these last episodes are proving how talented the cast and crew are, how engrossing the show is, and why it made it five seasons on one of the best cable networks on TV.