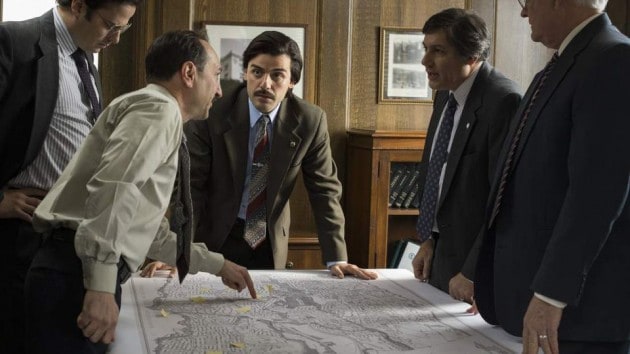 Few political stories of the last thirty years are as fascinating as Nick Wasickso's rise and fall from politics, as meteoric an arc as I can remember in my lifetime (I'm 28). Swept up in the political fervor of a racially-charged housing issue in Yonkers, Nick Wasickso's attempt to navigate the tricky seas of New York politics is an extremely tragic arc – and yet, as a story that mostly took place behind a podium or in a council meeting, it doesn't naturally seem like a show that would be able to deliver the kind of dramatic crescendos HBO miniseries are known for (like last year's fantastic Olive Kitteridge).
Enter David Simon, William Zorzi, and Paul Haggis. Show Me a Hero, which debuted two of its six episodes Sunday on HBO, captures the brutal efficiency of Wasickso's unlikely rise to prominence and quick fall from grace with the kind of precise characterization and societal reflection we'd expect from Simon and Zorzi. The first episode, "Part One," is all rise: though it begins in media res (a bit of foreshadowing that casts a long shadow over everything that follows), "Part One" centers on Wasickso's rise to being elected mayor of Yonkers, defeating a long-time incumbent by swinging public opinion over an important, unpopular housing decision handed down to the city by Judge Sand (Bob Balaban).
Unlike most stories, Wasickso isn't a noble hero or a clever villian as a protagonist; he's just a man who grasped an opportunity to lead his constituents, and picked a really unlucky time to do it. The platform he runs on – fighting a court order to desegregate, adding 200 low-income homes to Yonkers – is far from a noble one; yet Issac doesn't play Wasickso as either ignorant or supremely pragmatic. He runs for mayor on a suggestion, and only begins to believe in himself when he sees handmade voter signs supporting him on Yonkers streets late in the campagin – he isn't a man of destiny, or a man whose faults necessarily prove to be his undoing. He's a politician who gets caught up in a decades-old battle for civil rights, doomed by the irony of the best day of his life being immediately followed with the worst.
How "Part One" captures that rise is impressive, weaving in stories about other characters on the fringes of the story: a caretaker losing her sight, a council woman pushed out by rezoning (Winona Ryder), a daughter struggling to build a family in the projects, and Michael Sussman (played with a wonderful vivacity by Jon Bernthal), the civil rights lawyer who helped push the desegregation order through the Yonkers government. These stories help give Show Me a Hero a fuller world, one that observes the cultural climate of the time without ever getting in the way of the stories it wants to tell about characters, a core tenant of Simon's work on television the last twenty years. All of his characters on Hero are victims of circumstance; circumstance aided by small decisions that spiral into much larger, challenging issues as it moves from "Part One" to "Part Two."
Show Me a Hero also doesn't back away from the ugly racial climate of the housing issue, and the role it plays (and at times, doesn't play) in the long-fought battle between city and judge (by way of the NAACP) from 1987 to 1994. But it doesn't try and observe tension in the typical, overwrought and melodramatic way: it lets the ironies and disturbing elements of its story present themselves organically, maintaining Simon's brutal attention to detail in observing American society without ever pushing its intended analysis on the audience. What exposition is given is done to expedite the political processes a bit (aided by montage on occasion); for the most part, "Part One" and "Part Two" both are squarely focused on Wasickso's attempts to quell a growing storm amongst his peers and constituents, and the rapid acceleration and descent of his career that goes along with it,shifting immediately from former to latter when he decides to back away from his appeal of the court's decision (which is basically the platform he got elected on), and accept the court's ruling to desegregate.
The first two hours of Show Me a Hero are swift and focused. There's no meandering to be found here, no philosophic musings or musical performance to add texture to the show's world. Even with a muted color palette and nods to technology/fashion of decades past, Show Me a Hero finds that aforementioned texture with an amazing dedication to its central performance, equally matched by its ability to immediately establish a set of secondary characters and follow their stories, whether its in Yonkers or down in Puerto Rico. Simply put, David Simon is back - Show Me a Hero looks to join The Wire, Treme, The Corner, and Generation Kill in arguably the most important (and consistent) creative catalog in modern television.
[Photo via HBO]