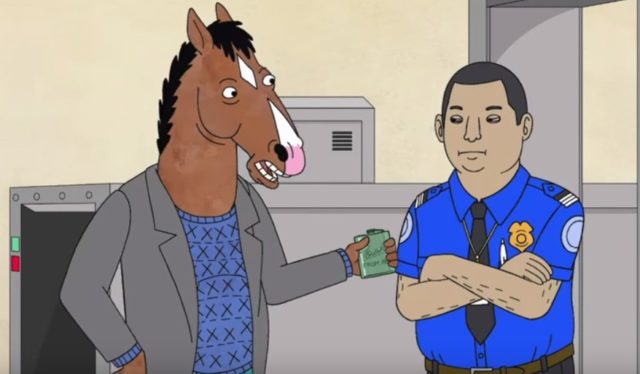 When it was first released, the first season of BoJack Horseman polarized critics with some hailing it as a masterpiece and other claiming it wasn't as smart or introspective as it claimed it to be. Four seasons in and boy were these critics proven wrong, with BoJack Horseman being one of the most acclaimed comedies of our time that has consistently received near universal praise for its last three seasons of gut-busting and heart-wrenching plot-lines and characters. An animated show that has to be seen to be believed, BoJack has tackled topics and went places that few other animated show can claim to and that's made a must-see culture topic that has all of your media save coworkers and friends discussing it by the watercooler. But seeing as we only get 12 episodes a year, many fans out there might be searching for a way to kill time until the next season drops later this year.
Below are five shows to kill some time with if your a fan of BoJack:
1. Daria
The show that created a generation of smart alec cynics still holds up after almost two decades off the air. With a deliciously sardonic and deadpan protagonist and an increasingly serialized story that delves into some pretty serious personal topics, it has the right combination of zaniness, cleverness, and emotion to entertain fans of BoJack across five fantastic seasons and two television movies. The supporting cast is nothing to scoff at with Daria's BFF Jane Lane being that ideal best friend you spend your entire hoping to find. During a recent commemoration of the 20th anniversary of the series, co-creator Susie Lewis admitted to Entertainment Weekly that she would love to bring back the character to television and we have no doubt it will be just as amazing and entertaining the original series was.
2. F Is for Family
From the mind of comedic genius Bill Burr comes a family sitcom unlike anything seen in animation before (or live-action for that matter) . Focusing just as much on analyzing and deconstructing sitcom stereotypes from our childhood and realistically portraying the '70s as an era of rampant racism, sexism, and child abuse, F Is for Family doesn't hold back on emotionally devastating drama while also being laugh-out-loud funny throughout. The juggling act this show goes through in a single episode is something to watch especially as the show gets progressively darker as it goes on. Netflix thought it would be the ideal companion to BoJack with both being released around the same and they're not wrong. With a new season on the way to accompany its Netflix roommate, BoJack, this would be the best time to check it out.
3. The Life and Times of Tim
Lasting three seasons on HBO, the unjustly overlooked comedic masterpiece must be seen by absolutely everyone who loves adult-oriented animation. Taking the concept of the hapless comedic protagonist to the extreme, it would be hard to recall a single moment where our hero Tim catches break in between all the hilarious misunderstanding and hi-jinks. Its a shame that we"ll never get to see characters like the Boss and Rodney on out screens again, but the show makes the most of them in its 30-episode run. Alas HBO canceled it way too soon, but its definitely worth checking out if you can get your hands on it.
4. Animaniacs
Who doesn't love Yakoo, Wakoo, and Dot? Before BoJack skewered celebrities and pop culture, Animaniacs parodied, pastiches, and homages everything ranging from Apocalypse Now to Goodfellas leaving nothing but laughter in their wake. Winning numerous well-deserved Daytime Emmys and even a prestigious Peabody award, you would be hard-pressed to find another exhilarating mix of rapid-fire comedy, wit, slapstick, and pop culture references you could pick apart for days. While we wait for the Hulu reboot that is coming to us in 2020 it might be a good time to check out this series.
5. Avatar the Last Airbender
https://www.youtube.com/watch?v=ep-hKvalRj8
Owing to the episodic nature of American television, its actually extremely hard to find many serialized animated shows , let alone ones that maintain an excellent storyline across three seasons towards an explosive and emotional heartfelt finale that tied up almost all the loose ends while maintaining a great sense of adventure and humor throughout. Setting aside the abysmal M. Night Shayamalan live-action adaptation this franchise has rarely wrong a false note and has made fans of millions of both children and adults out there who want their animated shows to be both mature and fun without sacrificing the epic storytelling that you find a-plenty in anime, but is often missed in american animation. At 61 episodes, Avatar would make a great serialized binge for all of you out there craving a great story and some of the most lovable animated characters to ever hit the small screen.