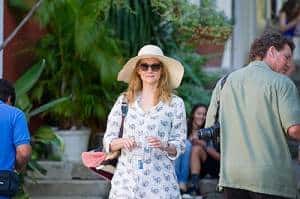 Two of Showtime's leading ladies are on opposite sides of life during their upcoming finales.
While still on vacation with her family in Puerto Rico, Cathy Jameson of The Big Cfinds herself separated from her dive boat and adrift on the calm waters with nothing but silence, sunshine, and her thoughts. Sometimes it takes being that alone and that isolated in order to be able to clear your mind and really examine things that might have been bugging you; in Cathy's case, it looks to be her true feelings on her roles as a wife and a mother, both things that she was never 100% comfortable in embodying.
Cathy may finally have the time to slow down, but Nurse Jackie Peyton has no time for such things. With her job at All Saints (possibly) behind her, Jackie's back on her old stomping grounds to help O'Hara make it through labor. But while Mike continues to be a particularly painful thorn in Jackie's paw, Charlie comes through the doors on a stretcher, likely from an overdose after another failed rehab attempt. The connection between Charlie and Jackie may have been major factor in Cruz's anger toward her, but right now, Jackie is the only thing standing between Charlie and an early death. Can Mike put his pride aside and get out of Jackie's way?
The fourth season finale of Nurse Jackie airs Sunday, June 17th at 9:00 on Showtime, with The Big C following at 9:30. You can check out additional sneak peeks from the Nurse Jackie finale here.
Have you enjoyed the current seasons of Nurse Jackie and The Big C? Do you think Jackie will make it to see O'Hara have her baby? What type of epiphany do you think Cathy will come to while on the boat?
[jwplayer mediaid="149348″]
[jwplayer mediaid="149347″]