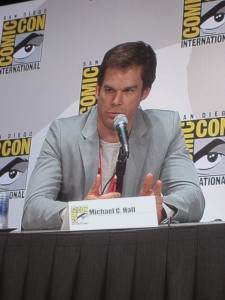 Dexter is back and as we saw in the most recent teaser trailer, this upcoming season debuting October 2nd on Showtime is all about faith.
In the exclusive Comic-Con trailer for the new season, Dexter is seen pondering over his victim's religious tattoos and asks him, 'How do you reconcile your belief with what you've done?'
Is Dexter on a search for God?
It seems so. Michael C. Hall, C.S Lee (Masuka), David Zayas (Batista), James Remar (Harry), Colin Hanks and executive producers Sarah Colleton and Scott Buck were on hand to discuss just that at yesterday's panel held in Ballroom 20 as part of Showtime's Tired of Ordinary Television panel at Comic-Con 2011.
Colleton says the upcoming season will address bigger issues as 'Dexter knows what he doesn't want to pass on (to Harrison) but what does he want to pass on?'In true Dexter style, he has a deep desire to define faith which by "it's very nature is undefinable."
With Harrison obviously a bit older in this season, Hall remarked that Dex is in a place where he has finally processed Rita's death through his involvement with Lumen and is at a point where he doesn't feel equipped to provide his son with the guidance that he needs. This is especially true when it comes to spiritual guidance.
James Remar meanwhile said Harry would provide guidance to Dex by taking on the devil's advocate role this season and acting as a sounding off board for Dexter to throw his ideas to and talk things out with.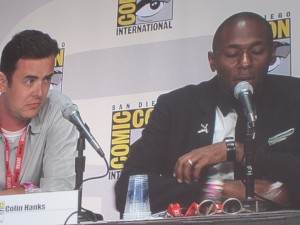 New guest star Colin Hanks claimed 'I can't confirm or deny involvement in the Dexter program.'However, we did learn at least learn his character's name, Travis Marshall and the most of his time on set is spent with Edward James Olmos. Mos (Def) who plays Brother Sam in the upcoming season appeared during the Audience Q and A portion of the panel as he stepped up to the microphone and asked 'Can I come up on stage with you guys?'
Both of the actors are gracious about their roles and excited to be working on what they both feel is one of the best shows on TV. Hanks further remarked that this season we will see stuff we haven't seen before.
C.S. Lee mentioned Masuka will have some fun and maybe get in a little bit of trouble with some interns at Miami metro where as Zaya's Batista will continue to have a 'caliente'relationship with LaGuerta.
As for the question on everyone's mind about when and how Deb will find out about her brother's dark passenger, Buck said 'Deb is smart, but Dexter is smarter.'
Plans to wrap up Dexter and provide him with some resolution are not in place just yet. Hall stated that 'everyone has their own thoughts about it but that time will come.'
Lucky for us, it doesn't seem to be coming any time soon.
Other interesting tidbits/moments about during our favorite serial killer's panel revealed during the audience question and answer portion of the panel included:
Michael C. Hall thanking his fellow actors for the 'totally inorganic long pauses'needed for Dexter's inner dialogue.
C.S. Lee's favorite season has 'yet to come because Deb and Masuka need to get married.'
When getting nervous looks from others in the supermarket, Hall gives them back.
Hall's favorite scene when not embracing his dark passenger took place in season 5 when Dex tells Astor he loves her as it really shows the evolution the character has made.
For a sneak peek into the new season, check out the trailer below
Dexter returns Sunday October 2nd on Showtime.