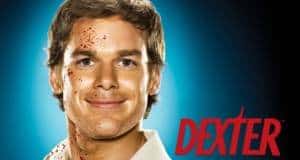 It looks like Dexter Morgan's blood slide collection will continue to grow next year. THR reported earlier this evening that Showtime is preparing to announce that they've picked up their smash hit Dexter for a sixth season.
With two weeks remaining in the current season, the ratings are great; 2.5 million viewers tuned in on Sunday to catch the tenth episode of the season "In the Beginning." (Be sure to check out our review and recap of the episode if you haven't already.) That number is up 43% from the season premiere, so it looks like the fans are responding very positively to this season.
That number is extremely impressive, as is the great supporting cast the show brought in this year. Lumen (played by Julia Stiles) and her interesting and complex relationship with Dexter has unfolded since the end of the season's third episode, Jonny Lee Miller has turned in a brilliantly creepy performance as Jordan Chase, and Peter Weller (yes, RoboCop!) has been great as the ever-suspicious Stan Liddy, who may be on his way to discovered Dexter's secret.
As always, the principal cast has been solid all around, led by the incredible Michael C. Hall, who may be looking at his fourth straight Emmy nomination for Outstanding Lead Actor in a Drama Series.
THR's report says that the announcement should be expected within the next week or so. We'll let you know as soon as we hear anything.
What's the verdict? Is everyone excited at the thought of having America's favorite serial killer around for another season?