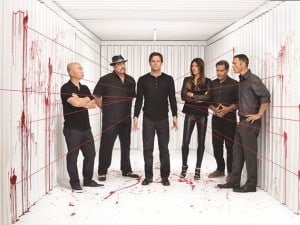 Alright class, repeat after me:  this is the final season of Dexter.  Showtime has confirmed, once again, that season eight is the final season, but they also rolled out an awesome new clip so we can forgive them for thinking we all have dementia.
In the clip, Dexter (MIchael C. Hall) goes in search of Deb, and he finds her in a mental state unlike any he's ever seen her in before.  If there is any question that this season will confront Dexter with the need to either kill of Deb or run, this clip should should take care of that:
Wow.  First of all, a stunning bit of acting from Jennifer Carpenter.   Over the course of Dexter, and her career in general, we've seen her go some pretty dark places but here we see Deb not only in shambles, but literally disintegrating from the weight of all the ugly truth she is carrying around.  It makes for a surprisingly stark contrast to Dexter, whose own moral dumpster would have exploded a long time ago, if he'd had one.
You have to chuckle at the fact that they are having their conversation in the cereal aisle.  Cereal killer?  Seriously Dexter producers?
LOS ANGELES, CA — (April 18, 2013) — In a special announcement this afternoon made directly to DEXTER's 13 million fans on the show's Facebook page, SHOWTIME confirmed that the upcoming eighth season of the groundbreaking series will be its final one. The announcement coincided with the release of an exclusive tease from the premiere of the series' eighth and final season, which debuts on Sunday June 30th at 9 p.m. ET/PT on SHOWTIME. The series premiered on the network on October 1, 2006 and has grown its loyal audience every season since its debut. DEXTER was the recipient of the prestigious Peabody Award, as well as 25 Emmy® and 10 Golden Globe® Award nominations, and was twice named one of AFI's top ten television series.