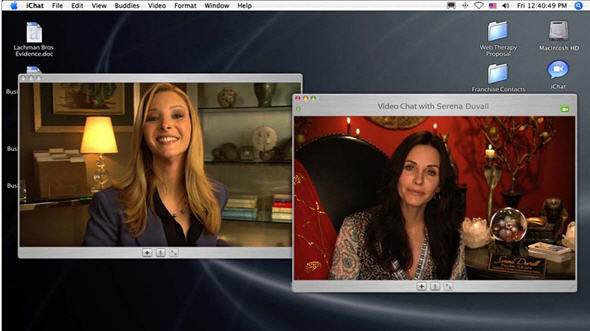 Dr. Fiona Wallice isn't having a great string of luck these days. Her husband, Kip, has been spending a pretty penny at adult stores and cheating on her with a string of transsexuals. Her mother, Putsy, was finally convinced to give Fiona some money to get Web Therapy, her pet project (and new therapeutic modality), off the ground, only to be derailed by the so-called lost Hodge (a Vietnamese man claiming to be the child Putsy put up for adoption). With the departure of her tech guy Kamal, Fiona's now alone, not financially capable of taking Web Therapy to the next level, and still dealing with the most unusual of clients.
On tonight's episode of Web Therapy, titled Psychic Analysis, Fiona continues to deal with the unraveling of her mother, as the elder Hodge went from geisha girl chic last episode to what looks like the Pirates of Penzance meets 2011 for Halloween night at a local bar she likes. The absolute horror on Fiona's face when Putsy suggests that she move in with the Wallaces is the type of comedy that Web Therapy does so well; can you imagine having the one person that gets to Fiona living in the same house with her? Perfection.
Also on tonight's new Web Therapy, we get to see Courteney Cox's psychic character Serena make her first appearance, most notably telling us the (hilarious) name of Fiona's childhood horse and informing Fiona that she has to get ready for her appearance on Tyra. (The Top Model reference made my reality TV lovin' heart swell three sizes.) Cox and Kudrow have such good chemistry together in this short clip that you can only imagine the weird, awkward comedy that's to come between the two acting veterans.
Web Therapy airs Tuesdays at 11:00 on Showtime.