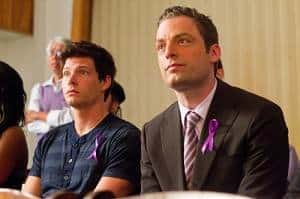 Though little bits of information about Showtime's summer programming have been released here and there, the network has officially unveiled its 2012 summer schedule, which includes the expected mix of original shows, comedy specials, and documentaries.
Weeds will officially kick off the summer season on Showtime when it returns on Sunday, July 1st at 10:00. There has been much speculation that the upcoming season, the black comedy's eighth, will be its last, though nothing has been confirmed. Following the return Weeds is the second season premiere of Golden Globe-nominated Episodes, the first of a planned nine episodes. The show has already been airing the upcoming season for several weeks.
The second (television) season of Lisa Kudrow's Web Therapy will be making its move to a new night, scheduled to air Mondays beginning July 2nd at 11:00. The show aired Thursday nights last summer and will be playing host to a plethora of guest stars this go-around, including Minnie Driver, Conan O'Brien, and Rosie O'Donnell. Showtime will be bringing back two reality favorites this summer, as well, with The Franchise premiering its second season on Wednesday, July 11th at 10:00 and The Real L Word returning for its third season Thursday, July 12th at 10:00. Both shows have undergone major changes since the last time you saw them, as The Franchise will be following MLB's Miami Marlins and The Real L Word expands to two coasts and shuffles the cast once again.
In terms of comedy specials, Showtime has three in the pipeline, beginning with Corey Holcomb: Your Way Ain't Working on Friday, July 6th at 10:30. The Last Comic Standing alum will be live from Las Vegas in the one-hour special focusing on dating and sex. D.L. Hughley: Reset is next up, allowing one of the Original Kings of Comedy to strut his stuff on Saturday, July 14th at 9:00. Weeds star Kevin Nealon has the third summer special, titled Whelmed but Not Overly, where he talks about politics and growing older, though the special doesn't have a premiere date just yet.
Joining the three comedy specials are four documentaries, two of which will be premiering next month. God Bless Ozzy Osbourne, a film from the perspective of son Jack that features interviews and concert footage, premieres Friday, July 13th at 9:00. Three days later, Carol Channing: Larger Than Life makes its debut; the film, airing at 6:30, follows the beloved actress/entertainer's early career on Broadway and the major industry accomplishments she's had in her seven decade career.
Unraveled, a film that finds a major Wall Street criminal (former attorney Marc Drier) giving an exclusive interview about himself and his actions, is set to premiere in August, while Shakespeare High debuts this September. It tells the story of a California Shakespeare festival and a group of students that are preparing to take the stage and compete in it.
Summary of Showtime Summer Premiere Dates
Sunday, July 1st
10:00 p.m. Weeds (Season 8)
10:30 p.m. Episodes (Season 2)
Monday, July 2nd
11:00 p.m. Web Therapy (Season 2)
Friday, July 6th
10:30 p.m. Corey Halcomb: Your Way Ain't Working (Comedy Special)
Wednesday, July 11th
10:00 p.m. The Franchise (Season 2)
Thursday, July 12th
10:00 p.m. The Real L Word (Season 3)
Friday, July 13th
9:00 p.m. God Bless Ozzy Osbourne (Documentary)
Saturday, July 14th
9:00 p.m. D.L. Hughley: Unrest (Comedy Special)
Monday, July 16th
6:30 p.m. Carol Channing: Larger Than Life (Documentary)
TBA
Kevin Nealon: Whelmed but Not Overly
Unraveled
Shakespeare High