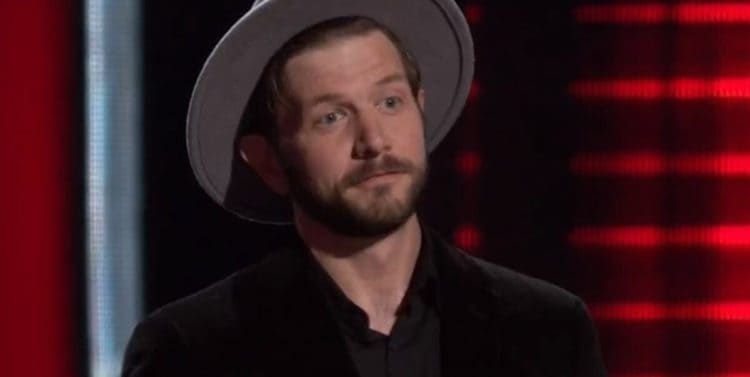 When Sid Kingsley stepped on stage at The Voice to perform "Don't Think Twice, It's All Right" by Bob Dylan, he was probably hoping that just one judge would turn around and give him a chance to join their team. What he got was three judges, lots of praise, and the opportunity of a lifetime. Not only were the judges impressed with Sid's performance, but viewers at home were also wowed by his amazing vocal skills. Sid ultimately chose to join John Legend's team and people are already predicting that he has what it takes to go all the way. Even if Sid doesn't go home the winner, his career has officially reached new heights. Continue reading for 10 things you didn't know about Sid Kingsley from The Voice.
1. He Took A Cross Country Train Ride To Film For The Voice
COVID-19 changed a lot of things for the entire entertainment industry. Production teams had to get creative to find ways to film while also keeping everyone on set safe. As a result of the pandemic, Sid took a train from Richmond, VA all the way to Los Angeles because the thought of flying during COVID-19 just didn't sit right with him.
2. He's A Photographer
Sid is a creative person to his core and singing isn't the only way he likes to express himself. He also has a knack for visual arts as well and he is a talented photographer who loves capturing the beauty in each moment. From portraits to landscape shots, Sid can do a little bit of everything.
3. He Loves Spending Time Outdoors
There are some people who literally cringe at the thought of having to spend time outside, but Sid definitely isn't one of those people. When Sid has free time, he loves to spend it enjoying the beauty of nature. Some of his favorite activities include hiking and exploring.
4. He Was In The Coast Guard
Sid Kingsley's journey to The Voice wasn't like many of the other contestants. Although he grew up surrounded by music, he didn't consider himself a singer and wasn't actively trying to make music a career path. After high school, he chose to join the Coast Guard. Even while in the military, however, music still found a way to find him.
5. He Taught Himself To Play The Piano
Sid was born into a family who loved music, and they instilled that love in him. He grew up watching his grandmother play the piano and was eventually able to teach himself. On top of that, he is a talented saxophonist who started playing in fifth grade. He eventually became a soloist in his high school's jazz band.
6. His Fiance Encouraged Him To Audition For The Voice
As I mentioned before, Sid didn't always consider himself a singer. In fact, for many years he was more focused on playing instruments than he was on singing. However, once he started performing, it was clear that he had a special voice. His fiance repeatedly encouraged him to audition for The Voice and he finally decided to give it a try.
7. He's Released Music
On top of performing covers, Sid is also a songwriter who has written and released his own original music. His debut EP, Sweet Virginia, was released in 2019 and, in many ways, pays homage to his upbringing in Richmond and his southern roots. He has also released several singles.
8. He's A YouTuber
If watching Sid's audition on The Voice left you wanting to hear more of what he can do, you're in luck. Sid has a YouTube channel where he often posts videos of his performances. That isn't all his channel has to offer, though. He also posts vlogs and tutorials on various subjects.
9. He Likes To Make Music That Makes People Feel Free
Like most artists, Sid aims to make the kind of music that evokes people's emotions. Most importantly, however, he hopes his music makes his listeners feel free. He told RVA Mag, "Music should be human. It should be all those emotions. We've been tossing around this term calling it 'freedom music.' Not to say that all music isn't free, but this is more about feeling free — however you interpret that."
10. He's A Cat Person
There's always something strangely satisfying about knowing whether a person prefers dogs over cats or vice versa. Cat people can officially add another tally mark to their list for Sid Kingsley. Judging by his Instagram account, Sid appears to be a diehard cat lover. Sorry dog people, but there isn't a dog photo in sight.