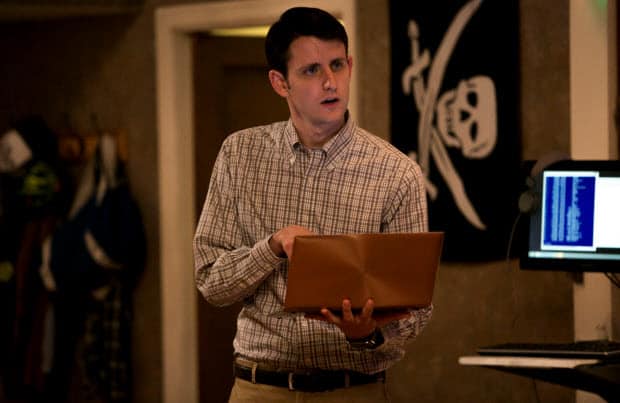 With so much media attention expectedly and deservedly going to the season premiere of Game of Thrones (I, myself, have been foaming at the mouth with anticipation for months), it's understandable that people would forget that HBO is also premiering Silicon Valley tonight, a new comedy series from Mike Judge that airs right after Thrones. While Silicon Valley doesn't feature any White Walkers, sword fights, or dragons, what it does offer is that same type of high quality writing and acting that has made Game of Thrones into such a phenomenon. Except instead of making you scream, cheer, or shout at your television with character deaths or unexpected twists, Silicon Valley makes you laugh with its quick wit and smart jokes. And man, it makes you laugh hard.
Despite being an ensemble show (and what a great ensemble cast it is), Silicon Valley centers on the story of Richard (Thomas Middleditch), a programmer who lives in a house with his fellow computer whiz friends. Richard has created his own website called Pied Piper, which allows you to check if your music infringes any copyrights, and he thinks he might have something that will be beneficial to musicians or the industry itself. What Richard doesn't realize is that his ingenuity is wider reaching than that. What he's done with the website is allowed people to access, search, and download compressed files at an incredible speed. It's invention that opens the door for a new phase of technology, and it's also an invention that big shot tech guys, such as Hooli's Gavin Belson, are willing to pay $10 million for.
The main storyline that is the focus of Silicon Valley's pilot is Richard's decision of whether to accept Belson's $10 million offer or to take $200,000 from another tech billionaire, Peter Gregory, who would only buy a 5% share of Richard's business and help him build it into something great, something like a $1 billion company. Ultimately, Richard takes up Gregory on his offer and has all of his friends (even the arrogant, crude, and outspoken Erlich played by T.J. Miller) join him in this adventure. As he says near the episode's end, this is their time to do something great, to be the guys running the company and making the big decisions.
Ultimately, what makes Silicon Valley so successful is this idea of opportunity, the idea of the nerdy, awkward underdogs getting their chance at success and power. The main cast of characters is incredibly likeable, even when their making jokes at each other's expense, and they look, sound, and behave how I would expect a group of programming friends in Silicon Valley to. Middleditch as Richard is especially effective, specifically during the scene where there is the bidding war on his idea, resulting in him having a panic attack, and he's also excellent in the scene in the doctor's office that follows it, which is probably provides the funniest moments of the entire episode.
Unsurprisingly, the gang in Silicon Valley bears many similarities to Ron Livingston and co. from Judge's Office Space, and that's a good thing. If Judge can take the same approach he used in Office Space and utilize it to satirize the booming tech world through the eyes of these goofy, hilarious underdogs, Silicon Valley could be the best comedy of 2014. It's certainly another gem for HBO.
Other thoughts:
– I knew from the opening scene with Kid Rock that I was going to love this show.
– NipAlert is pure perfection
– The debate of Steve Jobs versus Steve Wozniak was hilarious. "Jobs was a poser. He didn't even write code."
– Peter Gregory's "Don't Go to College" TED talk was pure absurdity, and it was great.
– If there's one thing I want more of in Silicon Valley, it's more of a female presence in the cast. I know Amanda Crew is a series regular as Monica, but I hope the series expands its focus a little more to see what the women in Silicon Valley are up to as well.
– "That is a narrow car." "Billionaires…"
"You don't know the half of it. And neither does Congress."
– I'll be reviewing this weekly for the site, so let's hope that this show can continue to just get better and better as it goes along. It's already pretty awesome.
What did everyone else think of the Silicon Valley premiere? 
[Photo via Jaimie Trueblood/HBO]