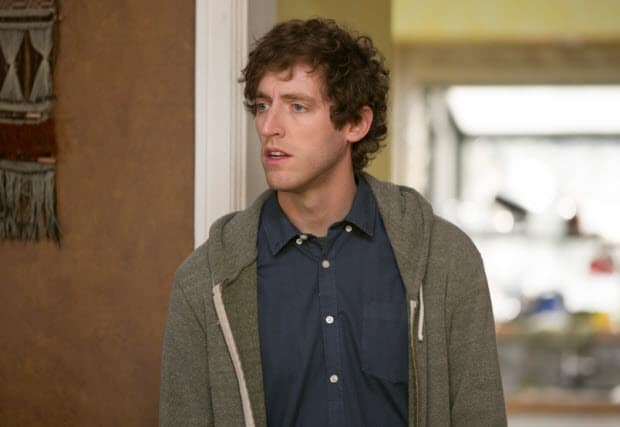 I don't have too much to say about Silicon Valley that I haven't already said. With each episode, this series continues to raise the stakes and organically throw challenges its main characters' ways, while still giving them enough victories that it doesn't feel like a pile-on. Most importantly, however, Silicon Valley is just freaking funny, and it's easily the best new comedy of 2014.
Tonight's episode of Silicon Valley, "Articles of Incorporation," began with Gavin Belson's new promotional video for Nucleus, the compression software platform that they are essentially stealing from Richard. Even though this competition with Belson and Hooli appears to be Richard's main problem, he actually has to deal with establishing himself as a company first before thinking about the competition. Unfortunately, when Richard tries to declare Pied Piper an official company, he discovers from Jared (actually named Donald) that there's already a Pied Piper landscaping business in California that possesses the name, thus setting off the crazy chain of events that make up the rest of "Articles of Incorporation."
Everything about this episode of Silicon Valley is heightened, from Arnold's threats to beat Richard to death to Erlich's attempt at a vision quest to Peter Gregory's Burger King-inspired lesson on business. However, this heightened reality doesn't hurt Silicon Valley in any way; in fact, it enhances the extreme satire already in place and leads to some of the funniest moments that the series has given us yet.
Everything about Peter Gregory's storyline in this episode was fantastic, as it showed off his genius but also eccentricity, further solidifying all of Richard's fearful claims about the man. Richard trying to be a negotiator and dealing with Arnold's threats were also a great way to show Richard's continued development as a CEO-type. Despite his love for technology and his desire to build this company, Richard only feels comfortable in "playing the part" of a CEO right now, but anytime he's forced to deal with the ramifications, he retreats into his default nervous, neurotic, and nerdy state of being.
And what more can I say about Erlich? In the Silicon Valley's first two episodes, I thought he functioned well as the annoying, douchey friend who continues to bother the main character. However, tonight, Elrich finally comes into his own, as both a character and as a source of comedy. His "vision quest," or essentially what turned out to be him tripping on drugs in a rest stop bathroom, was a nice, surprising character moment of Elrich, as he tried to do more than just help himself for once, and it was also the single funniest sequence that Silicon Valley has provided us so far.
Overall, "Article of Incorporation" continued to do what Silicon Valley has done a great job of so far: give us a group of underdogs to root for and also deliver some fantastic moments of comedy that had my sides hurting. It did all of this while also amping up the sense of total craziness that is the tech industry, allowing for even greater moments of satire and leading to another solid episode of what is shaping up to be a great new series for HBO.
Other thoughts:
– Both of Richard's scenes with the grocery store worker were hilarious.
-Â "Because if we can make your audio and video files smaller, we can make cancer smaller. And hunger. And AIDS."
– "Dwarfism 2.0." "Where's Dwarfism 1.0?" "Just in the world."
What did everyone else think about this week's Silicon Valley?
[Photo via Jaimie Trueblood/HBO]