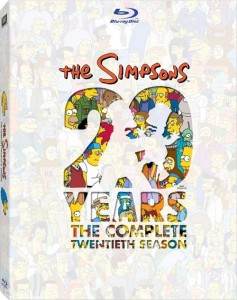 Thanks to the good folks over at FOX, we have a brand new Simpsons Season 20 Blu-ray box set to give away to one of our lucky readers!
The Simpsons 20th session was released on DVD and Blu-ray on January 12. For those of you who own a BluRay player, here's your chance to win a copy.
The inspriation for this contest comes from a game my friend Trish and I played back in law school. Each day we posted our favorite Simpson's quote on our MSN and a group of our fellow students choose the funniest of the two. In the end, I won (suck on that, Trish!) and she had to buy me dinner.
I love Simpsons quotes. So I want to hear your favorite one. It can be from ANY season. Here are the contest rules:
Open to residents in Canada and the continental United States (it's a Region 1 Blu-ray).

Email me at clarissa @ tvovermind.com with your favorite Simpsons quote (as short or long as you like). Make sure to write "Simpsons Contest" in the subject line and identify who said the quote! The contest winner will be drawn at random.

Contest will end at 5:00 p.m. EST on Wednesday, January 20. I will contact the winner by email and make arrangements to mail the Blu-ray.
Good luck! I've got a lot of old Simpsons quotes running through my head all the time, so I can't wait to see what you come up. And don't try to fool me with a Family Guy quote or something. Trust me, I'll know.
UPDATE! I've already gotten several emails and they're making me laugh. You guys are really brightening up my day. Keep 'em coming!
Email: clarissa @ tvovermind.com
Follow: twitter.com/clarissa373