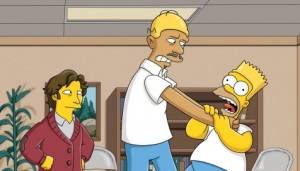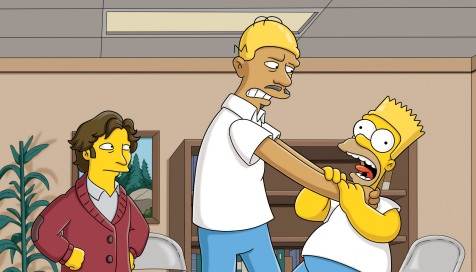 A brand new episode of The Simpsons will be airing on Fox tonight at 8:00 p.m. ET and actor Paul Rudd and basketball star Kareem Abdul-Jabbar will both be lending their voices to the episode.
In tonight's episode, Homer humiliates Bart during a family outing to a stadium, so Marge tells him to enroll in a parenting class that's lead by Dr. Zander (voiced by Paul Rudd). When it's revealed that Homer strangles Bart for misbehaving, Dr. Zander brings in Kareem Abdul-Jabbar (as himself) to strangle Homer and show him what it's like. Of course, that "therapy" turns Homer into a pushover, which leads to Bart taking advantage of him and turning into the school bully. So Marge brings Bart to Dr. Zander, hoping that he can then cure her son.
Below is a sneak peek of the episode featuring the voices of both guest stars.
clarissa @ tvovermind.com
twitter.com/clarissa373
twitter.com/tvovermind