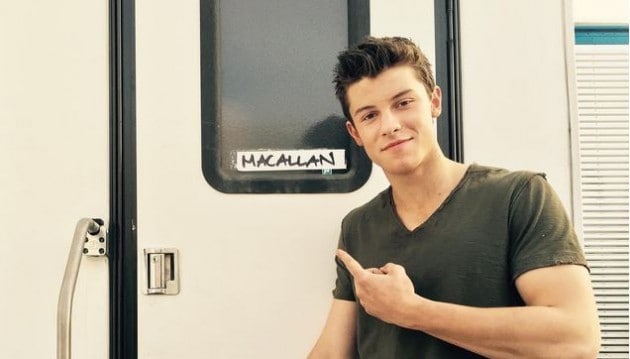 The 100 fans still have a long wait until Season 3 of the post-apocalyptic series premieres on The CW, but that doesn't mean that the flood of news on the upcoming season is slowing down at all. The latest bit of info is that singer Shawn Mendes, most famous for his hit song "Stitches" and just coming off playing on Taylor Swift's huge 1989 tour, will be guest starring in the Season 3 premiere. The casting news was first reported by E! Online.
In the Season 3 premiere, Mendes will play "a scrappy young Ark survivor," whose name may or may not be Macallan, as evidenced by the photo above from the singer's Instagram. Whatever his name is, though, Mendes' character on The 100 "gets into a tricky situation and uses his particular talents to get out of it." Could those "particular talents" mean his singing ability? It sure sounds like it, according to The 100 executive producer Jason Rothenberg.
"Shawn is a big fan of the show, and reached out to me on Twitter about potentially working together," Rothenberg told E! Online. "He's a very talented artist, and we knew we wanted to do something special and different for the premiere. Shawn gave us a unique opportunity and I can't wait for our fans to see our collaboration."
If you need further proof that The 100 is about to get a little musical, be sure to check out our exclusive Comic-Con interview with series star Lindsey Morgan, who teased a musical moment for Raven in Season 3. Perhaps everyone's favorite engineer and Mendes' "scrappy survivor" end up crooning out a duet together. We'll have to wait and see.
The 100Â Season 3 premieres at midseason on The CW.
The 100Â fans, what do you think of Mendes' casting, and are you excited for the possibility of some music in the show? Comment below and let us know.
[Photo via Instagram]