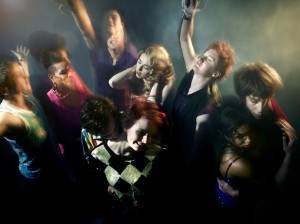 It's a new year, which means that a new series of E4's highly addictive Skins is right around the corner. And we can hardly wait.
2011 was a tumultuous year for the world of Skins, given that the franchise was being hit from all cylinders in both positive and negative ways. First, there was the premiere of not only the Third Generation characters on the flagship UK show, but also the premiere of an American version of Skins, which aired and faltered on MTV after only one disastrous season. Also, the 4th and 5th series of Skins UK were not aired here in America after three successful seasons on BBC America. Thankfully, Skins found a home on Netflix's Instant Watch for those lucky souls who have the dough for such a service.
While the US version of Skins lacked the magic (and the ad support) of its UK namesake, the fans were still mixed about E4's newest generation of Bristol teens, who took over the hellraising mantle left behind by Effy Stonem (Kaya Scodelario) and her crew. Despite some initial (and somewhat expected) opposition from most fans, one thing was agreed upon: at least the show was better than its American incarnate.
Well we here at TVO actually enjoyed Frankie, Mini, Alo and crew and are thrilled to see the severely ragtag group of friends return for what looks to be a very epic season. Will the third generation have a darker tone in their second season as their predecessors did? Also will we lose another beloved character as well? All will be revealed come January 23rd, when the show returns. Not only will Skins series 6 bring us more OMG moments that would make even the casts of Pretty Little Liars and Gossip Girl blush, but we will get a new cast member in the form of Alex (Sam Jackson). An American exchange student, Alex will have a knack for flirting. If that's the case, then this kid is already halfway there in fitting in with this group of characters.
For the American audiences who are still in the dark about all things Skins UK related, below is the official trailer for the new season as well as this year's opening credits montage and a picture gallery to gawk at. Take a peek a what's to come!
Skins Series 6 Official Trailer
Skins Series 6 Official Opening Credits
If you let the official opening credits play, the player will immediately play all of the opening credits from past seasons down to the series one and an interview with the creators of the symbolic opening sequences.
So are you guys excited about the return of Frankie, Matty, Grace, Alo, Rich, Liv, Mini, and Nick? What do you expect to happen next season? We will keep you posted on all things Skins here at TVOvermind, so stay tuned! Meanwhile, use the arrows above to browse through a gallery of the cast wilding out as usual.
Skins Series 6 premieres January 23rd on E4.
Source: Skins – E4 Official Website