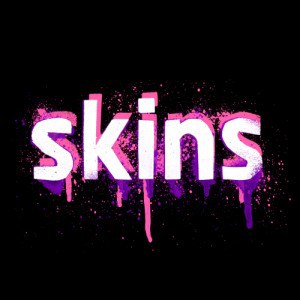 The party is almost over…
Big news was dropped yesterday concerning Skins UK's (or rather Skins) final season, which confirmed previous reports of the 6 episode season focusing on previous Skins characters instead of following a new cast. While that particular tidbit was right on the money, the players involved and the scenarios were way off base.
The final season of Skins will be all about Cassie Ainsworth (Hannah Murray, first generation), Effy Stonem (Kaya Scodelario), and James Cook (Jack O'Connell) as they enter the young adult years of their lives. Skins co-creator, and the voice of the series, Jamie Brittain will return to write Cook's two-part story called 'Skins Rise.' Bryan Eisley, the other Skins co-creator and Brittain's father, will pen Cassie's story, which  will be called 'Skins Pure.' Finally, Jess Brittain (sister of Jamie and daughter of Eisely) will pen Effy's story, which is called 'Skins Fire,' and will feature guest appearances by Naomi Campbell (Lily Loveless) and Emily Fitch (Kat Prescott).
Seems like the third generation's cast didn't get any love for a return. Sad, because despite the ire towards that particular group, I actually enjoyed their shenanigans just as much as I did with Tony and Effy's cliques from the first four series. Oh well…
Here is Kaya giving a message on YouTube about the upcoming final series and demanding for fans to subscribe to the Official Skins TV Channel to keep up with all the behind the scenes news and gossip on Series 7 and Skins as a whole.
Courtesy of UK's Seenit.co.uk, here is a quick synopsis for Cassie, Effy, and Cook's journeys into adulthood. Be forewarned, spoilers are kind of ahead.
In Skins Pure, Cassie is back in London (instead of New York City where we last saw her), but there is no mention of "soulmate" Sid Jenkins (Mike Bailey) in sight. Should we fear for the worst or can we hold out hope for a surprise appearance by skullcap wearing loverboy?
"Cassie is adrift, alone and invisible in London, trying to make sense of her life. Slowly she realises that someone is following her. Cassie turns towards the unknown. A strange and poignant friendship is carved out of mutual loneliness, but can it survive exposure to the real world?"
Skins Rise features Cook, who embarks on a dangerous mission that could trigger a return to form for the bad boy of Bristol. But with Cook being an adult now, will his violent tantrums be his downfall?
"Cook has a job delivering drugs to Manchester Revellers. When he is asked to help his employer's girlfriend find a house and finds that he is irresistibly attracted to her, he sets off a train of events which will lead him into a world of savage revenge and a confrontation with his own violent past."
Effy, the ultimate Skins bad girl returns in Skins Fire, an aptly appropriate title for such an iconic
character's favorite pastime: playing with fire. Will she ever learn?
"Effy has a dead-end job as a receptionist for a leading London Hedge Fund. But as she stumbles across crucial financial information relating to a troubled deal and embarks on an affair with her wealthy boss, she finds out that she has bitten off more than she can chew. Her flatmate Naomi tries to stop Effy from ruining her life, but Effy cannot be reached; until tragedy strikes."
Can. Not. Wait.
So which Skins characters are you excited to see back? Are there any others you hope to see pop up in the final series of Skins?
Skins Series 7, the final series, will premiere in Spring 2013 on E4 in the UK.
Sources: E4's Official Skins Webpage, SeenIt.Co.UK
Photo Credits: E4