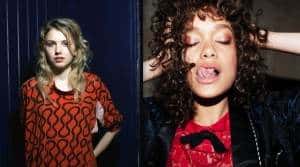 While there are a multitude of words to describe Cassie Ainsworth (Hannah Murray), one word seems to be the most prevalent of them all: "tragic."
In the first series of the UK drama Skins, we met Cassie as she was going through numerous personal battles of the mental health kind. She was suicidal, anorexic, and highly dependent on drugs to help her make it through it all. Despite basking in that unholy trinity, Cassie had a light in her that, while tenebrous, shined truth among those around her; namely Sid, who ended up being the one person who could save her from destruction. After Sid stood her up one time, Cassie attempted suicide in response. The sad thing about that scenario was the cancelled date was involuntary on Sid's part. After another disasterous date, Cassie finally realized Sid truly cared for her and the two officially started to date.
One of Cassie's biggest mysteries was her ability to not eat and, yet, not faint (or die) from malnutrition. There were scenes were Cassie craftly looked as if she was eating, but in reality she wasn't. It's unclear if her friends noticed as well. However, when she was drunk or high as a kite, there was no confusion on how she got to those states.
In the US version of Skins, Cassie is now Cadie, who is just as 'loony' as her UK namesake at first site. Cadie loves knives and she loves to get high, but the one drug Cadie can't seem to get is love. Could Stanley be what the doctor ordered?
Here's Britne Oldford as she describes Cadie and her love for music:
Will Cadie ever experience the ultimate high that love tends to give?
Skins will premiere Monday, January 17th @10/9c on MTV