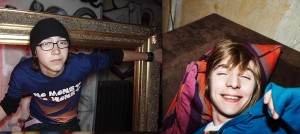 Since Tony was the leader of the pack, Sid Jenkins (Mike Bailey) would have been designated as the group's heart. From a glance, you wouldn't expect Tony and Sid to be the best of friends, but the duo are thick as thieves… to an extent. The opposite of Tony's intemperate behavior, Sid was the 'nice guy' who had a tendency to fall into a series of unfortunate events on a regular basis. This could've been attributed to Sid's submissive nature, which affected his self-esteem severely, especially in confrontations.
During the first series of Skins, Sid considered Tony his idol, despite being manipulated by him on numerous occasions, especially when it came to Michelle, who Sid is madly in love with. However, unbeknownst to Sid though, another girl was waiting in the wings for his affection. That girl, Cassie, would eventually deliver the confidence Sid so desperately needed, even if it meant getting herself hurt in the process numerous of times. Sid eventually found his voice and learned to stand up to Tony and his machinations. Will his American counterpart, Stanley, do the same?
On the American version of the UK hit, Sid is now Stanley (, but besides the name (and location) change, everything else pretty much has remained the same. He's still Tony's best friend/whipping boy and still has some serious self-esteem issues. On the bright side, there's Cadie (the US version of Cassie) who can help turn that all around again in this version of Sid's tale. That is if Stanley can get over his love for his best friend's girl.
Here's Daniel Flaherty discussing his role as Stanley and what Skins means to him.
What do you think of Daniel Flaherty as Stanley? Would '˜Sid'be proud?
Skins will premiere Monday January 17th, @10/9c on MTV