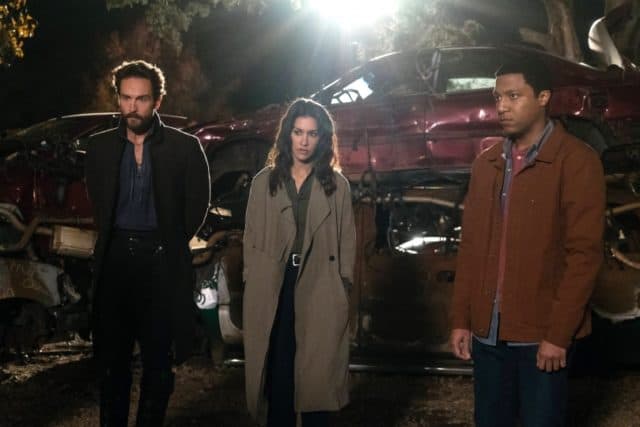 If a Rubik's Cube has the power to summon a hunger demon, I am never solving one ever again. In tonight's episode of Sleepy Hollow, a magical Chinese Rubik's Cube is the least of their worries. Malcolm also has an agenda of his own, but we'll get to it later.
The way that the show changes certain historical events to fit the narrative never ceases to impress. They took the Donner Party story and gave it the old Sleepy Hollow treatment. The Gold Rush aspect of it, however, is historically accurate. There has to be some fact in this world of fiction, yes?
I felt a bit uneasy when I saw the Assistant Secretary eating that man like a rabid zombie. That and watching Larry stuff his face and then turn into a mummified skeleton. On the other hand, I have seen much worse. This is nothing compared to the blood and gore I have witnessed over the years on television and in books.
The part where Alex used a Bluetooth device to clone Ashley, Malcolm's assistant's, SIM card, made me feel a tad paranoid. If she can make a device like this, who's to say that this won't be created by cyber criminals to listen in or track a person's phone? It's times like this I wish that CSI: Cyber is still on the air.
Speaking of Alex, it's interesting to see how her friendship with Jake is starting to progress after the latter saved her from the Djinn. Her reaction to Jake's new lady friend is classic jealousy. She can try to hide behind canine comparisons and sarcasm, but I know that she is developing certain feelings for our Master Wells. Though it may very well be the fact that she wants to repay him. After all, he did save her. Maybe I'm reading this wrong, and she has no interest in pursuing a romantic relationship with Jake.
Back to the mission, Team Witness managed to defeat the hunger demon by using gold. They acquired it from the cars in the junkyard and used it to box in the creature. Sure sheds some light on why people steal cars. I thought that they only wanted to go for a joyride, but it seems that they have gold on the brain.
A humorous moment in tonight's episode is the scene where Ichabod failed to solve the Chinese Rubik's Cube. The man said that he is skilled at solving puzzles. Apparently, this one has him stymied. Jenny then took over and quickly solved it with ease. Admit defeat, Ichabod Crane. A girl has bested you.
I also enjoyed the scene where Jake tried to name the mission. Kind of like how Cisco names the meta-humans on The Flash. He gave it his best shot until Alex told him just to drop it altogether. I do give him credit for trying, though.
As the episode ended, we find out that Malcolm is planning to summon the Four Horseman of the Apocalypse. He has already gotten two people to use as sacrifices. Namely the young Internet celebrity and Helen, his former employee. I do not know how the Scales of Justice will play a part in this, but I aim to find out.
On a side note, Jenny revealed to Ichabod that she had been presented with a potential job offer. It seems to me that she wants to accept it, but is hesitant to do so. She has her hands full with training Molly and fighting demons as well as other supernatural forces, but if she does take that job offer, it might spell the exit of yet another original cast member of the show.
Photo via FOX
Sleepy Hollow Season 4 Episode 10 Review: "Insatible"
Summary
Team Witness battle a hunger demon as Malcolm prepares to summon the Four Horseman of the Apocalypse in this week's episode of Sleepy Hollow.