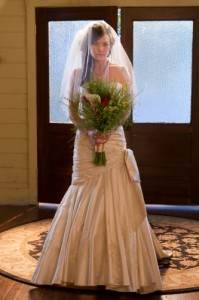 In 8 days time, Smallville fans will be sitting down to watch the series finale of this 10 season show. The CW has opted to air a two hour finale, instead of breaking it up into two separate episodes (meaning Supernatural will be pre-empted on May 13 and return the following week).
We know that Michael Rosenbaum will be returning as Lex Luthor in the Smallville series finale. In fact, we've already posted photos showing Rosenbaum with that trademark bald head, going up against Clark (view them here).
Now The CW has released photos of the other big event for the Smallville series finale: Clark and Lois' wedding.
As you can see from the photos below, Allison Mack will be returning as Chloe in the finale. (Spoiler Alert!) We also know that John Glover, Annette O'Toole and John Schneider are listed as guest stars for the episode, although we don't know in what kind of a capacity they'll be appearing in the episode.
So let the speculation being for the series finale. Will Clark finally assume his destiny of becoming Superman? Will Clark and Lois get married without any interruptions?
Amazon has "Smallville: The Complete Series" DVD box set available for pre-order now (no word yet on a complete Blu-Ray box set for the series).
Don't miss the penultimate episode of Smallville on May 6. You can also view promo photos for tomorrow night's episode here.
[imagebrowser id=1008 template = flipped]
clarissa @ tvovermind.com
twitter.com/clarissa373
twitter.com/tvovermind