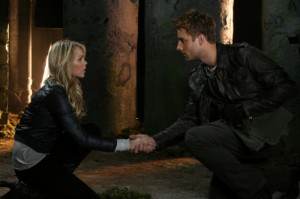 The penultimate episode of Smallville is approaching quickly (assuming you consider the two hour finale to technically be one episode). On May 6, Clark and Lois will heading to the Fortress of Solitude to get approval for their marriage from Jor-El. To celebrate the happy occasion, Jor-El takes the opportunity to give them a gift, with a lesson. He gives Clark's powers to Lois so that she can understand what it's truly like to be him for a day.
Naturally, that's when tragedy strikes. The Toyman has picked that very day to return to Metropolis, causing problems for the general population. Lois is now forced to fight him instead of Clark.
Oliver, meanwhile, goes on a hunt for the Bow of Orion and stumbles into Kara (a.k.a. Supergirl), who is back in town trying to stop Darkseid.
We've previously posted photos for this episode that focus on Lois and Clark (view them here). Now The CW has released promo photos featuring Kara and Oliver. You can view them below.
Don't forget about an all new episode of Smallville airing tomorrow night (April 28). Zod will be returning in the episode and you can view a trailer and sneak peeks that we've previously posted.
[imagebrowser id=993 template = flipped]
clarissa @ tvovermind.com
twitter.com/clarissa373
twitter.com/tvovermind