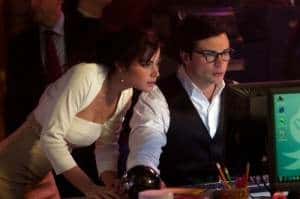 This is it, Smallville fans. The decade-long show will finally be coming to an end with a two hour series finale on May 13. Expect a great deal of nostalgia. Several guest stars will be returning for the series finale of Smallville. Michael Rosenbaum will return as Lex Luthor, Allison Mack returns as Chloe, John Schneider and Annette O'Toole will appear as Martha and Jonathan Kent, and John Glover will return as Lionel Luthor. Will any other surprise characters return? Only time will tell.
We're curious as to how and why some of them will appear. We know that Lex and Clark will have a confrontation and probably a showdown. We also know that – somehow – Jonathan will also be appearing at Lois and Clark's wedding. Despite the fact that Lois said to Clark that she couldn't marry him at the end of tonight's episode, photos show a wedding will take place during the episode. But is it real? And if it is, will it go of without a hitch?
Finally, Clark is expected to reach his destiny as a true hero and Superman. Below is a promo for the series finale of Smallville, airing on May 13. You can also view promo photos for the episode that we previously posted featuring the return of Lex Luthor (here) and Clark and Lois' wedding (here).
clarissa @ tvovermind.com
twitter.com/clarissa373
twitter.com/tvovermind