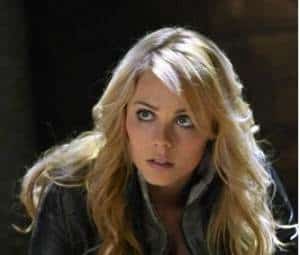 May 6 will mark the final episode of Smallville before the two hour series finale, which will take place on May 13.
Laura Vandervoort returns as Kara (a.k.a. Supergirl) in the May 6 episode of Smallville. While Oliver searches for the Bow of Orion – which may help remove the Omega symbol from his skull – he stumbles across Kara, who has returned to Metropolis to stop Darkseid.
Clark and Lois, meanwhile, have some pre-wedding challenges to deal with. Clark takes his fiance to the Fortress of Solitude to inform Jor-El of their plans to marry and ask for his blessing. Jor-El decides to give them an unusual gift. In an effort to show Lois what it's like to be Clark, he transfers Clark's powers to Lois for a day.
Toyman (played by Chris Gautheir) returns to Metropolis to wreak some havoc on that day and, since Clark is out of commission, Lois is forced to fight Toyman.
Below is a promo for the May 6 episode of Smallville from The CW. You can also view promo photos for the May 6 episode here, and promo photos for the season finale here (featuring the return of Michael Rosenbaum as Lex Luthor).
clarissa @ tvovermind.com
twitter.com/clarissa373
twitter.com/tvovermind