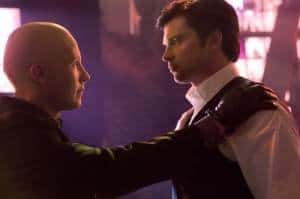 Tonight, a decade-long show is coming to an end. The CW will be sending Smallville out in style with a two hour long series finale. Several fan favorite guest stars will be returning for the episode, including Michael Rosenbaum as Lex Luthor (who hasn't been on the show for three years), Allison Mack as Chloe, John Glover as Lionel Luthor and Annette O'Toole and John Schneider as Martha and Jonathan Kent.
We've posted a lot of material leading up to the Smallville series finale tonight, including promo photos of Lex's return and Clark and Lois' wedding (here and here), a trailer and a short sneak peek.
Today we have one more thing for you. The CW sat down to speak with four cast members: Tom Welling, Erica Durance, Cassidy Freeman and Michael Rosenbaum. Below is a composite of their last interviews for the Smallville series finale. They reminisce about their favorite moments, talk about the return of Rosenbaum to the Smallville set, discuss what set memorabilia they'd like to take with them, and thank the fans for their loyal support over the years.
Ten years, folks. It's a long time. Enjoy the interviews below and don't miss the Smallville series finale tonight, beginning at 8:00 p.m. ET.
You should also enter our contest for a chance to win a digital download of season 10 of Smallville. Read more here.
clarissa @ tvovermind.com
twitter.com/clarissa373
twitter.com/tvovermind