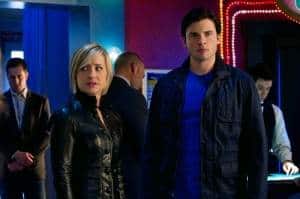 In anticipation of Clark and Lois' upcoming nuptials, the Smallville couple heads to Las Vegas with their friends. Of course, everything goes horribly wrong. Zatanna gifts the couple with a bottle of magic-spiked champagne, causing the entire group to get raging drunk and eventually black out. When the group awakens the next morning, no one can remember what they did the night before.
Lois and Oliver team up to try and find Lois' lost engagement ring. They head to the Fortune Casino, where they run into Fortune (played by James Kidnie), who accuses them of theft.
Clark and Chloe, meanwhile, also go on a little adventure. One that involves an armored truck theft and…a wedding?
Clark and Chloe wake up dressed in wedding clothes and panicking about the fact that they probably got drunk married the night before. That'll teach ya not to drink!
Below is a trailer and sneak peek from The CW for the February 24 new episode of Smallville. When you're done watching Chloe in her Madonna-inspired wedding dress, go take a look at promo photos for the episode that we previously posted, as well as photos for the March 4 episode (after which Smallville goes on a hiatus for the rest of March).

clarissa @ tvovermind.com
twitter.com/clarissa373
twitter.com/tvovermind