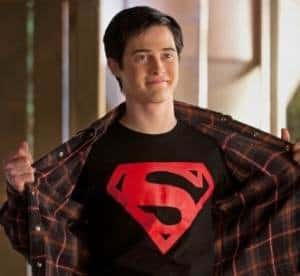 A new episode of Smallville will be airing on March 4 before the show goes on hiatus for the remainder of March. In the episode, we'll see a more grown-up version of the Lex Luthor clone (played by Lucas Grabeel). The clone is on track to become Connor Kent. Connor is a character from the comic books (also known as Superboy) who is, in some stories, a clone with the DNA of both Clark Kent and Lex Luthor.
Lionel Luthor is determined not to let that happen, though, and has no plans to allow his "son" to become anything but a Luthor. So he kidnaps Lois, after finding her snooping in his office, and ties her up in a slaughterhouse. The question is whether Connor will let Lionel go through with hurting Lois.
Tess will also play a role in the episode and is determined to go up against Lionel in a battle for the Luthor name and all that entails.
Below are a trailer and sneak peek for the episode, courtesy of The CW. You can also view promo photos we previously posted for this episode.