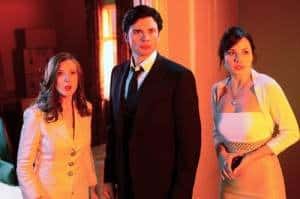 The CW series, Smallville, will be ending its impressive ten year run this week, on May 13. The finale will be a culmination of all of the important themes and moments of the series – Clark's transformation into Superman, the relationships between the various characters, the struggle against evil, and, last but not least, the relationship between Clark and Lois.
Michael Rosenbaum will be reprising his role as Lex Luthor in the episode. Other guest stars include John Glover, Allison Mack, Annette O'Toole and John Schneider.
At the end of the previous episode, Lois had told Clark that she couldn't marry him. After being given Clark's powers for a day and having to fight a villain, Lois realized how important Clark's destiny was, and didn't want to detract him from that.
Below is a promo about the return of Lex Luthor in the finale,a s well as a sneak peek with Lois and Clark arguing about whether to go through with the wedding. Lois seems firm that they shouldn't go through with it, but Clark is equally adamant that he wants to get married.
Don't miss the two hour series finale of Smallville on Friday, May 13. You can also view promo photos for the episode here and here.
clarissa @ tvovermind.com
twitter.com/clarissa373
twitter.com/tvovermind