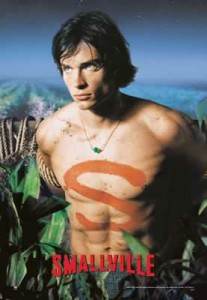 Hey, ten years for Superman isn't so bad, right? The CW's Smallville, which focuses on young Clark Kent's life, has currently run on the network for nine seasons and was recently renewed for a tenth season.
The CW wanted to wait until its Upfront presentation tomorrow to share the new, but the show's star, Tom Welling, let the cat out of the bag last night to Hollywood Life: Smallville will officially end after its tenth season, which will be starting in the fall of 2010. Since Welling revealed the big surprise before the network did, they just went ahead and confirmed it anyway.
Smallville was recently moved to Friday nights and, despite the possible death sentence that such a move could result in, still managed to pull in decent ratings (for the CW anyway) of around 2.35 million viewers.
Reruns of Smallville will continue to air during the summer and will be paired with reruns of Supernatural.
Check back tomorrow, as we'll have all the news on the CW's Upfront presentation, including its new fall schedule. You can also read an article we posted yesterday about the return of One Tree Hill and Life Unexpected next season, as well as the pick up of two new series: Hellcats and Nikita.