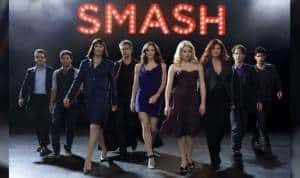 Personally, I've always enjoyed musical theater, so Smash is a certain slice of Heaven for me. Not only is the cast filled with terrific and award-winning actors and the storyline is compelling and rounded, but the writers and producers are attempting to do something that's never really been done before: create a full-fledged musical within a television series.
The newest promotional video for Smash from NBC is incredibly interesting. The cast and crew discuss the song and dance routines and what it's like to break new ground with a different kind of musical show. Executive Producer Craig Zadan explains "We set out to do something that no series has ever really done before. We're creating, piece by piece, this musical about Marilyn Monroe."
"One of the most exciting aspects of the show is that the story is told through music", says star Christian Borle, "You don't have to be familiar or even in love with the world of theater to appreciate what we're trying to do here. Star Megan Hilty, who plays one of the two characters vying for the role of Marilyn, explains that "these songs make sense within the story and they drive the plot forward." Angelica Houston gushed about the two songwriters behind the show "They seem to be a kind of bottomless pit of talent. They come up with at least two original songs per episode."
Watch the new behind the scenes featurette below, including a first look at some of the upcoming performances. Don't miss the series premiere of Smash on Monday, February 6 at 10:00 p.m. ET on NBC. If you're interested in watching the pilot episode early, click here to find out how.