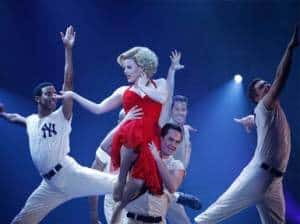 Smash is a show that deserves your love. I'm really hoping audiences embrace this midseason drama and musical that premieres on February 6. A few weeks ago I posted several sneak peeks for the new series (view them here), but now NBC has put together a lengthy preview video, including interviews from the various stars and producers, as well as scenes from the pilot and other episodes.
The pedigree of this show is impressive. Among its producers are the people who have produced Broadway shows such as Chicago and Hairspray, while the directors of Spring Awakening and American Idiot also lend their talents behind the camera.
Executive producer Steven Spielberg explains the show in its most basic form: "Our story centers around the very first inception of an idea". Indeed it does. The pilot episode introduces us to writers played by Debra Messing and Christian Borle, who get the inspiration to do a play based on the life of Marilyn Monroe. But as star Jack Davenport, who plays the show's director, explains, a play really depends on the quality of its star. As one of the producers noted, Smash "deals with the creation of a show. But it also deals with the creation of a star". Enter Katharine McPhee, who is one of two women competing for the coveted role of Marilyn.
While Smash is undoubtedly a musical, it's also about the mechanics and relationships that go into creating a Broadway show from scratch, from finding a director to writing the songs to coreographing the performances. Christian Borle explains, "There's a reason there's a curtain in front of the theater. Because all the drama's happening behind it."
Watch the extended preview of Smash below and be sure to tune in to the series premiere on February 6 on NBC.