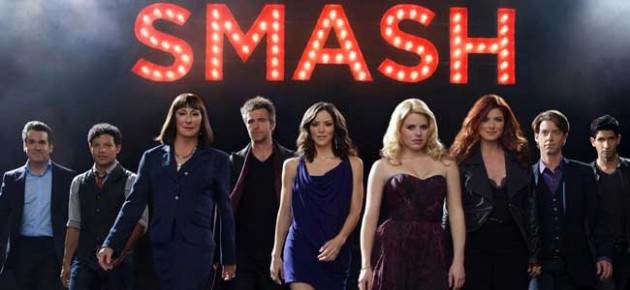 Smash is a show about the making of a star. Premiering tonight on NBC, Smash is also a show about the making of a Broadway musical – including the hopes and dreams of those trying to make it big and the back-stabbing that occasionally goes on behind the scenes. But lest you think Smash is all about the business of Broadway, rest assured that it's got heart, which is conveyed through song and the relationships between the characters.
Some big names are attached to this new series, including EP Steven Spielberg and the producers of Chicago and Hairspray. Experienced choreographers and composers have put together the impressive song and dance numbers that appear throughout each episode. There is a great deal of talent behind and in front of this show and it is one of the best new pilots of the 2011-2012 season.
Don't listen to anyone comparing Smash to Glee. There is such a marked difference between the two shows that any comparison is not worth listening to. Beyond the fact that both shows are essentially musicals, they couldn't be more different. Smash is a far more adult look at what it takes to succeed in a difficult business and takes place in a world where grown-ups are grown-ups. This level of drama and maturity is not always seen on Glee, which is perfectly acceptable since that's not really what Glee is about. Also, if you're a bit frustrated lately with Glee's lack of continuity about storylines and characters, rest assured that the quality of the story in Smash is superior.
To help get you ready for tonight's premiere, we've put together a handy character guide to introduce you to all of the players in Smash. Keep clicking the arrows below to browse through our gallery of the main characters. The final page contains sneak peeks for the premiere.
Smash debuts at 10:00 p.m. EST tonight on NBC.
Tom Levitt (Played by Christian Borle)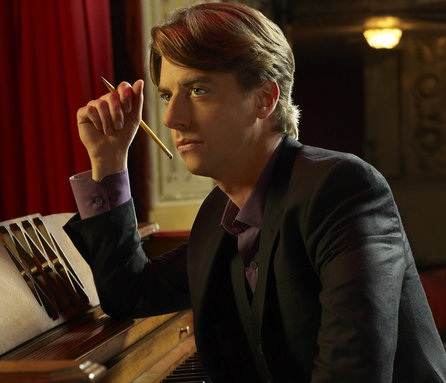 Tom is a Broadway composer who has worked closely with Julia for the last 20 years to develop musicals. They have had some success over the years. As Smash begins, "Tom is returning from London where [Tom and Julia] were opening up the West End production of one of their Broadway shows" Borle says. He and Julia are catching up after his trip when his house-sitter and assistant, Ellis, plants the seed of a Marilyn musical in their heads.
Initially, Tom and Julia are a bit worried about bringing Eileen on as a producer because they've heard of her recent marital and economic problems, but agree to take her on. Tom, however, is vehemently against hiring Derek as a director, since the two men are not fond of each other. He eventually relents, but he is a huge supporter of Ivy in the role of Marilyn and really pushes Derek to accept her.
Julia Houston (Played by Debra Messing)
Julia is an experienced lyricist, who has been working with Tom to write and develop shows for about two decades. When Smash begins, Tom and Julia have decided to take a break from work because Julia and her husband, Frank, have decided to adopt a child (they already have one teenage son). But when both Tom and Julia latch on to the idea of a Marilyn musical, Julia is convinced she can juggle the creation of a new play and the lengthy adoption process, which frustrates her husband and causes tension in their marriage.
Julia is far more receptive to the idea of Derek as the director than Tom is and suggests he prepare a musical number for them as a type of "audition". She's blown away by the performance and wants to take him on. While Julia is clearly supportive of Ivy and believes – like Tom – that she is a good choice for the role of Marilyn, it's also clear that Karen catches her attention during her first audition.
Karen Cartwright (Played by Katharine McPhee)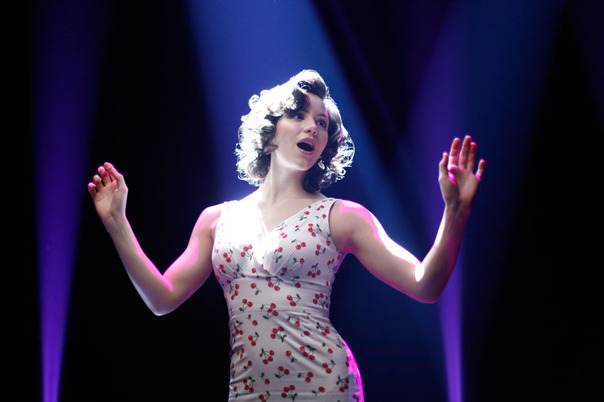 Karen is one of thousands of girls who is trying to "make it" as a Broadway actress in New York City. Unfortunately, she's not having much luck so far. She spends most of her days alternating between her waitressing job and going on auditions that always end in disappointment. Her lack of success has led her parents to question why she's choosing to "pursue her dreams" when it hasn't panned out, but her live-in boyfriend Dev is very supportive.
When an opportunity to audition for the part of Marilyn comes up, Karen takes it and is elated to get a call-back. "This opportunity gives her a chance to show what she can really do" explains McPhee. But she's not the type of girl who will do anything to succeed. "She wants to succeed without climbing off the back of someone else, or doing something that's not in her moral code. She comes from a perspective of purity." She catches the eye of director Derek, who likes her fresh face and talent. But this opportunity pits her against a Broadway veteran: Ivy.
Ivy Lynn (Played by Megan Hilty)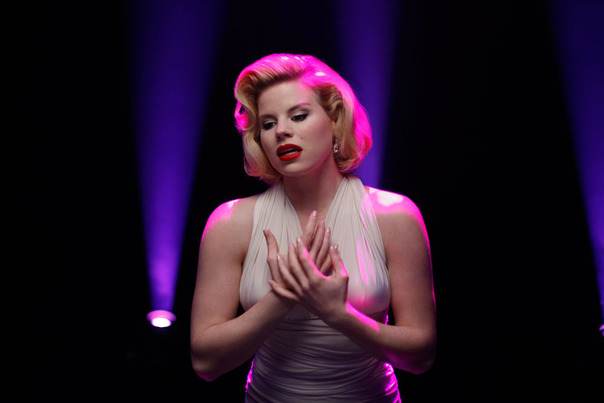 Ivy is the blonde bombshell actress who has spent the last 10 years on Broadway. 'But she's always been in the ensemble'Megan Hilty explains, 'And she's dying to get that big part and break out of the ensemble. So this is basically her first chance, her first real chance, to do a real role. She's a very ambitious girl and she'll do just about anything to get what she wants.'
Ivy is one of those girls who has always wanted to be on Broadway. Fortunately, she's managed to forge a friend with both Tom and Julia. When they first conceive of a Marilyn musical, they turn to Ivy to record the first song. After all, Ivy has the looks and the talent down pat. But she's forced to audition along with everyone else, because director Derek doesn't necessarily want to go with the veteran, but wants to find an actress who can be a star. So Ivy is pitted against newcomer Karen, who certainly matches her in terms of talent.
Eileen Rand (Played by Angelica Houston)
Eileen is a veteran producer of Broadway shows, but when Smash begins, she's going through an acrimonious divorce with her husband, Jerry, who was also her business partner. When he manages to block access to some of their contested funds, she doesn't let that stop her. "She's very self-sufficient, or so she likes to think. I think she's a woman in control – a powerful woman" Houston explains.
After getting wind of the Marilyn musical, she approaches Julia and Tom about becoming producer. "It's her job to get the whole show on the road. It's a power position – she's a suit." While it takes years to develop a musical, she wants to get the ball rolling right away, believing in the show. She's the one who suggests veteran Broadway director, Derek, and pushes hard to get him hired over Tom's objections.
Derek Wills (Played by Jack Davenport)
Derek is a talented and veteran director when Smash begins, and is first approached by Eileen to direct the Marilyn musical. He's very hesitant, because a previous musical about the actress flopped and also because he doesn't like working with Tom. He does agree to put together a musical number as an "audition" for Tom and Julia, but is resentful about it. Even when he gets the job, he's very determined to do things his way. "Like some directors, he is something of a master manipulator and he is also not really afraid of anybody" Davenport says. "I would say his only equal adversary, so far, would be Eileen. He's a very machiavellian, very creative, guy who doesn't really care whose feelings get hurt on the way to realizing his vision."
Derek pushes back against Tom and Julia when they seem to be leaning towards Ivy for the role of Marilyn. While he can't deny that Ivy is talented, he wants an actress who can be a star in the role, and Karen catches his eye. "Like a lot of directors he's interested in peeling away people's layers to see what's really in there and if he can use it. It's up to the audience to decide whether or not his methods are questionable. I think they're fairly acceptable under the circumstances."
Dev Sundaram (Played by Raza Jaffrey)
Originally from London, Dev has moved to New York and now lives with his girlfriend, Karen. "Dev and Karen are a great couple" Jaffrey explains. "Like most couples they certainly have their ups and downs and you'll see more and more of that as the season progresses." But when Smash opens, Dev is very supportive of Karen and encourages to continue pursuing her dreams, even when her parents object to her career choice.
Ellis (Played by Jaime Cepero)
Ellis is Tom's personal assistant and is, by his own admission, a "very ambitious, ladder-climber. He's new to the scene and wants to be part of it in any way he can" Cepero says. When Tom returns home from a business trip to London, Ellis casually mentions to him and Julia that "Marilyn would be a great musical".
Unfortunately, it's because of Ellis that word about the musical leaks long before Julia and Tom would have liked. But when it catches Eileen's eye, Ellis is back in the fold and part of the audition process
Frank Houston (Played by Brian D'Arcy James)
Frank is married to Julia and is a stay-at-home dad to the couple's teenage son. But his old profession of teaching is calling to him again. In addition, the couple has decided that now is the time to have a second child and are pursuing adoption. Julia had agreed to take a year off to help go through the process and raise the baby, but Frank is upset when he finds out that she and Tom have decided to start production on a brand new musical, fearing it would take her time and attention away from the adoption.