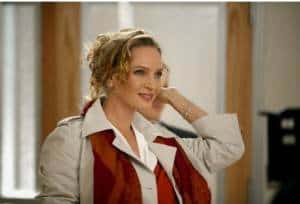 Uma Thurman made her entrance in this week's Smash, although it wasn't until the last few moments of the episode.
After Cuba that resulted in Karen being assigned as the Marilyn understudy for a few days, Rebecca Duvall finally sauntered into the rehearsal space. Clearly Karen is upset about being demoted, despite knowing her replacement was coming. Meanwhile, Ivy was fired from Heaven on Earth and spent the episode trying to charm her way back into the Marilyn musical.
Eileen may have secured some new funding through her bartender friend, Nick, but that doesn't mean it's smooth sailing now that the movie star has arrived. As they pointed out in the previous episode, Rebecca has never done musical theater before. In the upcoming April 16 episode of Smash, Rebecca will prove her lack of knowledge when she suggests changes to the script. In fact, her suggestions would turn Bombshell from a musical to a regular play, which is something both Tom and Derek aren't happy about.
While Rebecca soon realizes those types of comments aren't going to endear her to her bosses and apologizes, we have to wonder how much trouble the big movie star will be for the production. Will Eileen, Tom, Julia and Derek soon realize that bringing in a movie star was the wrong move?
Watch a sneak peek below for the April 16 episode of Smash, airing at 10:00 p.m. ET/PT on NBC.