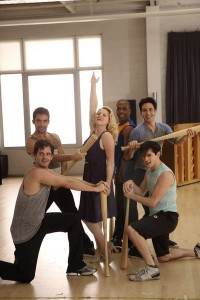 Tonight, all the hard work of the Smash cast comes to a head. It's the workshop presentation for potential investors and tensions are running high. For Ivy, this should be a time for her to showcase her talent, but her mother's appearance in the city puts her on edge. Bernadette Peters will be making a guest appearance as Ivy's mother, Leigh, a former Broadway star. Leigh is highly critical of her daughter, always around to steal the spotlight. In fact, when she first walks into rehearsal, members of the ensemble ask her for a performance. Later, Ivy confronts her mother about her over-critical nature and lack of support. You can watch two scenes featuring Ivy and Leigh here.
When when it comes time for the workshop presentation, Leigh finds a way to put herself front and center with her loud entrance. But then Ivy is up and it's her time to shine. Will she and the rest of the cast impress the investors and convince them to invest in the new musical? Will Ivy buckle under the pressure, giving Karen a chance to swoop into the role of Marilyn?
Julia and Michael's continue affair also comes to a head in tonight's Smash, then the pair must face the consequences of their actions.
Watch a sneak peek below for tonight's all new episode of Smash, airing at 10:00 p.m. ET/PT on NBC.