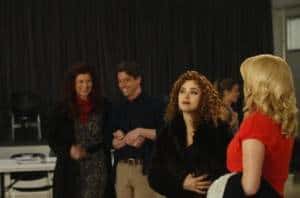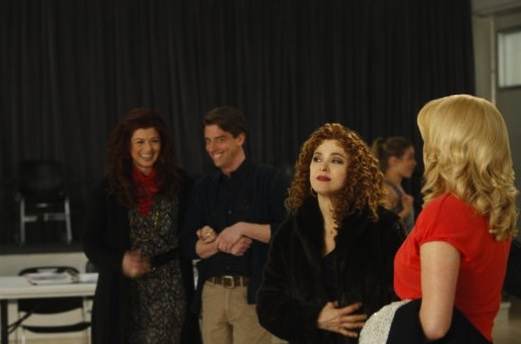 All of the rehearsals are coming to a head on the March 19 episode of Smash. This is what they've all been working for: The Workshop.
Eileen has arranged for a group of investors to be formally introduced to "Marilyn: The Musical" and this is the opportunity for Ivy, Michael and the ensemble to shine in order to secure some proper funding for the show. But, like the process so far, the workshop presentation won't be smooth sailing.
One of the problems involves Bernadette Peters, who will be making a guest appearance as Ivy's mother, Leigh. As it turns out, Leigh used to be a Broadway star and Ivy has spent her life living in the shadows. "How can I be anything when you're always here sucking up the light like a black hole?!" Ivy shouts. "You say something cruel every day when you're not ignoring me. You're my mother and you cannot even say one kind word." Ivy quickly realizes how similar her situation with her mother is to Marilyn's relationship with her mother.
Meanwhile, Karen has an opportunity to meet with the important music producer who heard her singing last week, but has to decide between the meeting and performing in the workshop. Julia and Michael also take even more risks and suffer the consequences of their affair.
Watch Peters sing "Everything's Coming Up Roses" and a scene between Ivy and her mother below. Tune in to a new episode of Smash on March 19 at 10:00 p.m. ET/PT.