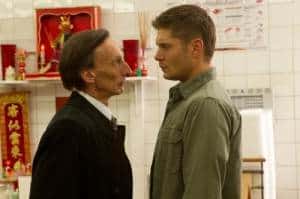 Unfortunately, The CW hasn't yet released a sneak peek for the upcoming Supernatural mid-season finale, which will be airing on December 10. So the Canadians (yeay, Canada!) have stepped in to provide us with another trailer and a sneak peek. This trailer is far more detailed as to why Sam is going after Bobby. The question is, will he actually kill his surrogate father? I'm going to guess "no", if only because the boys really do need a father figure in their lives, but that doesn't mean he won't hurt him.
As for Dean, he and Death are reunited when he asks for Death's assistance in retrieving Sam's soul. I almost want Death to appear in ever episode, if only because I get chills whenever he's on screen. He's possibly one of my most favorite secondary characters ever. The casting of Julian Richings was inspired.
Sera Gamble has indicated that this episode should end on a hopeful note, which might mean the boys are very close to getting Sam's soul back. As much as I love snarky, funny Sam, I also kind of miss the soulless version sometimes, if only for the sake of the brothers' relationship. I don't even mind if they spend a few episodes in the new year trying to deal with Sam's trauma from Hell. Sure, Padalecki can't pull off the one-emo-man-tear-of-pain like Ackles can, but that doesn't mean he can't sell it.
Check out the Space Channel's Supernatural promo and sneak peek below. Then go take a look at The CW trailer and promo photos we previously posted.
If you want to read some spoilers from the TV Guide cover story, including information about the first episode of 2011 (taking place on January 28) and what might be the craziest meta episode to date, check out our recent spoiler article.
DEATH RETURNS FOR A MEETING WITH DEAN – Dean (Jensen Ackles) seeks out Death (guest star Julian Richings) to help get Sam's (Jared Padalecki) soul back. Death tells Dean he will help Sam if Dean will agree to act as Death for 24 hours. Meanwhile, Sam decides he doesn't want his soul back and asks Balthazar (guest star Sebastian Roché) for a protective spell to keep his soul out of his body. Balthazar tells Sam he needs the blood of his father for the spell to work and since John Winchester is dead, Sam decides Bobby (Jim Beaver) is the next best thing. Mike Rohl directed the episode written by Sera Gamble & Robert Singer
clarissa @ tvovermind.com
twitter.com/clarissa373
twitter.com/tvovermind