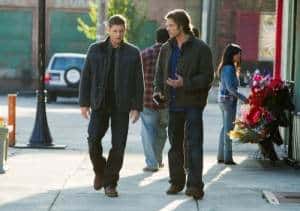 Everything I see from the new episode of Supernatural airing on November 19 makes me convinced that it's going to be awesome. First, there was the promo with the new catchphrase "fight the fairies!". Then there was the sneak peek where Sam and Dean discussed the nature of souls (which is funnier that it should be considering the subject matter).
Last night we found out that Supernatural was going to give a big nod to The X-Files with the whole "alien abduction" storyline during the episode, as well as the awesome new opening credits (watch it here).
Now we have the Space Channel trailer and sneak peek below. While the sneak peek isn't terrible interesting, the trailer is actually pretty awesome. It is much more X-Files than the CW promo was and it just makes the whole episode look hilarious. I love how freaked out Dean is about getting "abducted".
Did you also happen to read the spoiler article we posted last night about when the brothers might be getting Sam's soul back and how their relationship will improve? If not, read it here.
Make sure to tune into Supernatural at 9:00 p.m. EST on November 19.
FAIRIES!

While Sam (Jared Padalecki) and Dean (Jensen Ackles) are investigating a UFO sighting, Dean is abducted from a crop circle. However, when he awakens, he discovers he isn't dealing with aliens, but fairies!

Unfortunately, only Dean can see the fairy that keeps attacking him which makes tracing and stopping them difficult. The brothers become even more perplexed when Sam's investigation leads them to a world full of elves, gnomes and a leprechaun. John Showalter directed the episode written by Ben Edlund.
clarissa @ tvovermind.com
twitter.com/clarissa373
twitter.com/tvovermind