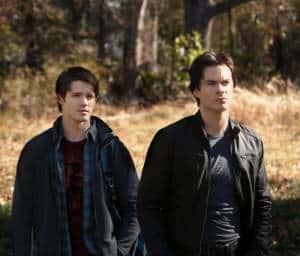 Things are heating up in Mystic Falls when The Vampire Diaries returns with all new episodes on April 7. As we saw at the end of the last new episode, Isobel has returned to Mystic Falls and decided to play her daughter a visit. But Jenna is extremely upset about the appearance of Elena's birth mother, as are Elena and Alaric. They both lash out at John for bringing her back to town.
Bonnie teams up with Jeremy and Damon to try to find the spell that will allow her to harness the power of her ancestors, and they head to an old abandoned estate to search for some clues.
Katherine is also sticking around and making trouble. If you view the promo and sneak peek below, she decides to stay in town and try to help the Salvatore brothers defeat Klaus. But chances are Katherine is not to be trusted. Does she have a way to double-cross the others or will she see this through to the end?
Caroline has to deal with the fallout of Matt discovering she's a vampire. He goes to her for answers, but she's obviously worried about what could happen – and whether they'll all be exposed – if he can't keep their secret.
The trailer below features scenes from the April 7th and 14th new episodes (view promo photos for the April 7 episode here and the April 14 episode here). The sneak peek shows Katherine proposing she team up with the Salvatores. Don't forget to tune into a new episode of The Vampire Diaries on Thursday!
clarissa @ tvovermind.com
twitter.com/clarissa373
twitter.com/tvovermind